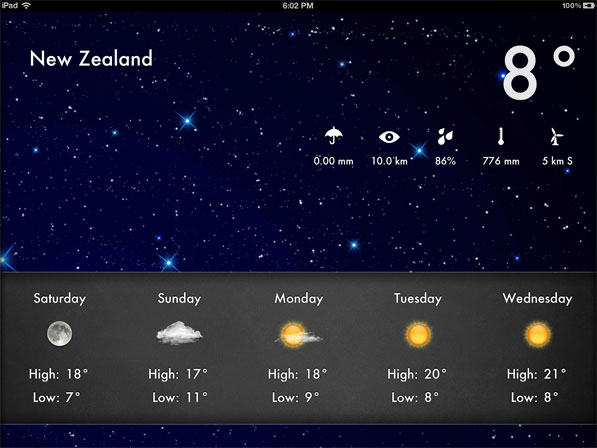 Stunning Weather Visuals on your iOS Device with Weather 2x
---
Weather apps are dime a dozen on the App Store today. There are literally hundreds of weather apps available for both the iPhone and iPad. So it's very difficult to pick out the apps that are not only beautiful and gorgeous, but also have the information that you need. Weather 2x by McLean Mobile Solutions is a once such app that packs the perfect combination of beautiful pixels and insightful data.
Weather 2x displays gorgeous, animated, fullscreen real-world visuals on the screen, based on the weather in the selected city. These are absolutely stunning to look at, and look great on their own. Weather 2x displays the temperature, name of the city and the weather status on top of these visuals. A single tap on the screen toggles between the weather state and information like the amount of precipitation, visibility, humidity, wind speed and pressure levels.
Double tapping the screen reveals a 5-day forecast of temperature highs and lows, along with neatly crafted icons for sunny, cloudy, rainy states. Swiping left-to-right reveals the cities that you can track and the app lets you add as many cities as you'd want. This list contains mini-previews of the weather visuals of each city, which is a very nice touch. When you enter the Edit more here, these previews start jiggling just as the icons on the homescreen, with little X in the corner to delete one. Swiping right-to-left instead reveals the daily forecast in steps of 3 hours for the five days — again, containing some excellent icons of the sun and the moon.
Weather 2x supports On/Off toggles for Metric & 24 Hour Time in the settings, and also the ability to turn the subtle sound effects off. A recent update to the app (v1.3) brought iCloud sync, so your choices are maintained across your devices. At just $0.99 on the App Store, Weather 2x is one of the best looking weather apps I've come across on the App Store.
Screenshots