if (screen && screen.width < 767) {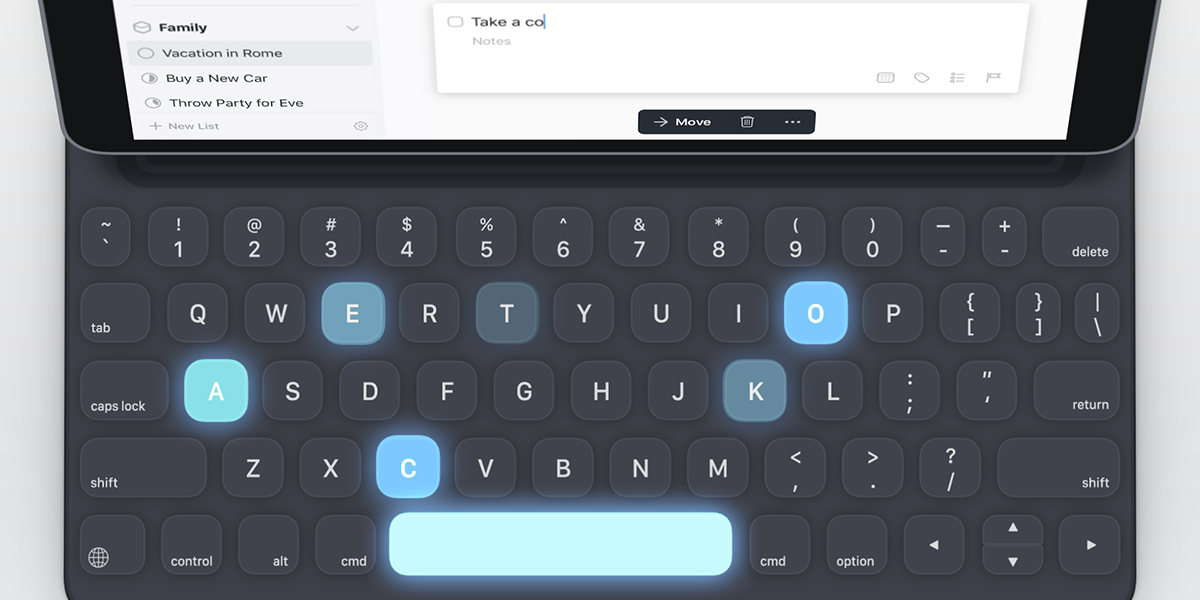 Things 3.6 for iPad Brings Desktop-Class Productivity for External Keyboard Users
---
Since the release of Things 3 a little over a year ago, it has evolved into one of the best productivity apps on iOS and Mac. Unlike the last few years, Cultured Code has been releasing periodic updates to the app, shaping it into a powerful Todo app that offers a lovely mix of elegance and features. Today, Cultured Code has released Things 3.6 for iPad — a substantial update that's sure to make some external keyboard users jump with joy.
Things 3.6 for iPad is a major release that introduces full support for external keyboards with powerful keyboard shortcuts, accompanied by nifty little feature additions that enhance the overall experience when you're using a hardware keyboard. Cultured Code says that the goal behind this release was to make the iPad app "truly desktop-class" and in my testing over the last few days, I can comfortably say that they've achieved this goal.
The new shortcuts and capabilities in this release are incredibly well implemented and Things for iPad is now a joy to use with a hardware keyboard. Not only can you perform certain actions on tasks using the new keyboard shortcuts, but you can also now select and manipulate items using just the keyboard. Here's a video that demonstrates the new Things 3.6 for iPad and its keyboard-focused features.
Cultured Code commented on this release:
The easy-ness of [the] list editing controls on iOS is something we're proud of. But as soon as you attach a keyboard to your iPad, all that magic goes away. Almost every list editing action requires you to lift your hand off the keyboard and touch the screen, which gets exhausting.

This problem can't be fixed by "just adding keyboard shortcuts", because shortcuts require context: Where do you want to insert a new to-do? Which items do you want to move? And so on. Before you can use a shortcut, you need a persistent selection in the list that you can target.
When using Things, you can now simply press the arrow keys to see a to-do selected in the list. Once selected, you can move it around using the arrow keys or press and hold the Shift key for multi-select. This works brilliantly well and you can even use touch controls and the keyboard at the same time. This, coupled with the regular list of keyboard shortcuts means you can navigate around and take actions on your to-dos just like you do on macOS.
Cultured Code says that they've added over 70 shortcuts in the app. To view what shortcuts are available in the screen you're on, just press and hold the 'cmd' key on your keyboard. Here's the entire list of keyboard shortcuts.
Quick Popovers and Type Travel
Things 3.6 doesn't ignore the popovers — you can fully control them using the keyboard. Additionally, this release also brings the excellent Type Travel feature from the Mac to the iPad, so now you can just start typing where in the app you want to be transported to.
Drag & Drop Support in the Sidebar
One major annoyance has been resolved in Things 3.6 for iPad. You can now drag and drop to-dos onto items in the sidebar to move them into other lists. This is so much more intuitive and faster compared to the previous method that I'm surprised it took the team so long to add this into the app.
Other minor improvements in this release include the ability to add tags and deadlines to multiple to-dos at once, and the ability to 'Undo' and 'Redo' your actions with ease.
If you're someone who uses an external keyboard with your iPad, Things 3.6 for iPad is a game changer.
Things 3.6 is also a Free Update to existing for users and is available for $19.99 on the App Store for new users.