if (screen && screen.width < 767) {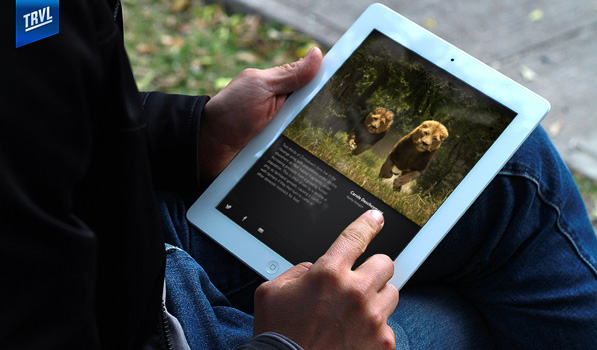 TRVL tells you Stories of the World using Beautiful Photos and Words
---
The Internet can suck sometimes. It shows you way too much beauty around the world — the more you see, the less you think you've seen. Today, we're talking about the 90+ places you'll probably want to check out in a pleasantly designed app for iPad, called TRVL. Instead of being a standalone app, TRVL sits in your Newsstand post install.
You realize the beauty of TRVL as soon as you launch the app. Since the app has Newsstand integration app, new content is always ready for you. The home screen is a spectacular arrangement of stunning photographs as magazine covers, on topics that cover different cities around the globe. You can also view these issues as per their locations on a map. Tapping on the magazine covers brings up a nice overview of the entire issue that you can swipe through and glance over. The magazines start with a narrative and are a mix of photos that tell a story, with write-ups in between. These beautiful collections of images have a one-para description that can be viewed by flicking a finger upwards, or viewing in the Portrait mode. It also displays the details about the photographer, the gear as well as the settings used to capture it. There are handy Twitter/Facebook/Email sharing options under every photo. Navigating between issues requires simple pinch-to-zoom and tap gestures that are probably second nature to an iOS user by now. Videos are embedded where still imagery can't portray the scene (for example, the change of guard at the Arlington National Cemetery in Washington DC).
If you happen to visit the city of coverage, you can even look at the exact location where each photo was taken, in the event that you'd like to go and see it for yourself. Another super-nifty implementation is underlining terms that you may not be aware of, where a simple click will bring up an excerpt box explaining what it is, with a 'continue reading on Wikipedia' button for further understanding. Not only are the photos breath-taking, the written word is immersive too; transporting you right underneath the Eiffel Tower in Paris or on the streets of Manhattan. It was definitely written by people who represent the soul of these places.
Majority of the content in TRVL is available for free consumption, along with a couple of premium Photo Books as in-app purchases. Irrespective of whether you're an avid traveller or not, TRVL is a nice app to have for your iPad. Who knows, it might inspire the most reclusive of us to come out of our dungeons and go explore these earthly wonders.
Masthead photo via Breeze