if (screen && screen.width < 767) {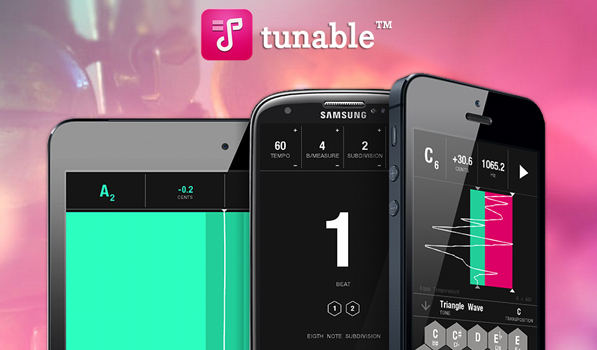 Tunable Is a Great Looking Multi-Utility App for Musicians
---
I've been very vocal about my love for music apps on iOS. The abundance of quality apps for musicians makes it almost stupid to not buy an iPad or even a Nexus 7 right now. For guitarists, the popular tablature app Guitar Pro is available on iOS and Android. Apps like Cubasis push what a touchscreen can do even further. One more thing I've noticed over the last year has been the number of music apps appearing on Google Play, which is awesome. Android has had and still has to some extent issues with latency in audio which will hopefully get fixed soon.
[showcase id="8148″]
I'm always on the lookout for a great app that will help me with pitch and tuning and I have found it in Tunable. Tunable does many things well. It is a chromatic tuner, a chord generator, metronome and even a recorder. The main interface looks great and it has a visual representation of any sound picked up with details of the note mentioned on top. The play button on the top right activates the metronome at any time. The tone generator at the bottom is really great too. It lets you compare what you're playing or singing with the standard notes and you can set it to sustain notes forever so you get your pitch correct. The sound is customizable with four waveforms as well. The metronome is is really wonderful because it can be customized very nicely into subdivisions and measures with a few taps. The screen has a nice big typographic layout for the metronome with a few other details. The settings in the app give you control over almost everything. You can adjust everything from the volume of individual elements to mic sensitivity (thank you for this) and even what level of precision the tuner should be set at. The app may sound a little complicated, but it really is a very intuitive app that works as good as it looks.
Tunable does so much that the price it is being sold at is beyond a steal. It is more than worth it and if you're a musician, you need it. Tunable is available for iOS as a universal app with stunning Retina graphics for $2.99 on the App Store and for Android for $1.99 on Google Play. It is also available for Kindle Fire and on the Amazon App Store for Android for $1.99.