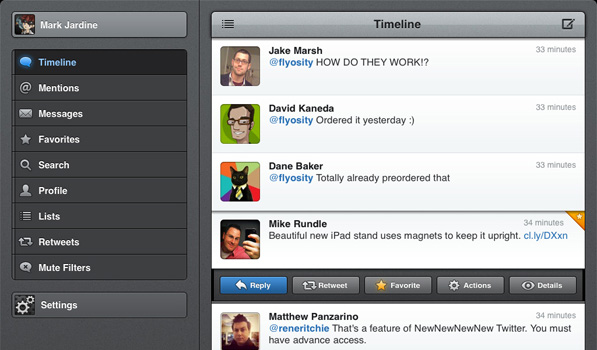 Chances are, a majority of our site's traffic isn't even going to read this post and probably closed the page right after they read the title because the've already purchased the app. Tweetbot for iPad has arguably been the most anticipated release from the Tapbots stable. There was a pretty huge void when it came to settling on a Twitter client for the iPad and while a lot of us knew that the Tapbots duo had been working on an iPad client for close to six months now, no one knew when it would land.
Yesterday, it seemed like someone set fire to the fireworks factories at Sivakasi. My entire timeline rejoiced collectively after Tapbots first released version 2.0 of Tweetbot for iPhone which is a fantastic evolutionary release of the best twitter client available on the App Store and then, dropped Tweetbot for iPad as well. As expected, they did not disappoint.
Tweetbot for iPad continues the same UI style that we've all come to love in their previous apps. One look at the UI and the color scheme used in the app and you'll know that it's a Tapbots app. Supporting both Portrait and Landscape modes, every element in the app has been meticulously designed by Mark, giving every pixel its own character. Like its cousin, Tweetbot for iPad also featured the neatly crafted animations and sounds that add to the UX of the app.
But the app isn't only a UI facepaint on a regular Joe. Underneath these delicious pixels is a powerhouse of a twitter client that packs a whole lot of features for all kinds of users. You've got multiple timelines, smart gestures, inline image previews, support for Read Later services, Push Notifications and a bunch of other features.
It has to be noted that this is just the 1.0 release of the app and if their release cycle for the iPhone version is any indication, the app is only going to get better with every iteration. Tweetbot for iPad is now available on the App Store for just $2.99. Version 2.0 of Tweetbot for iPhone is also available as a free update to existing users and $2.99 for those who didn't already have it.
For detailed reviews of these apps, read Viticci's review on MacStories and Matthew Panzarino's review on The Next Web.