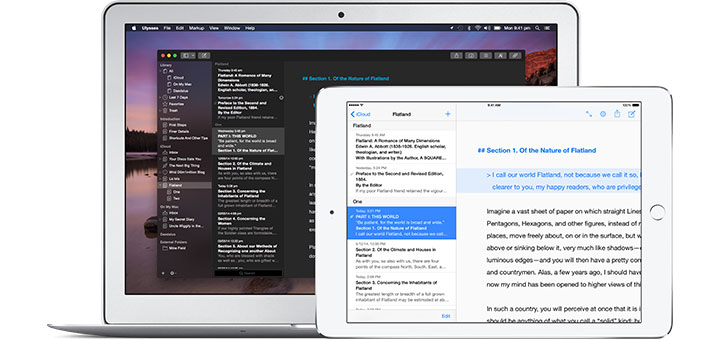 Along with the release of Ulysses 2.0 for Mac, The Soulmen also today released Ulysses for iPad. It is a brand new app that is just as powerful and feature-rich as its Mac counterpart and is a perfect companion app when you're on the go.
The Soulmen have had an iPad app called Daedalus Touch on the App Store, but it has largely stayed ignored since the release of Ulysses III. Ulysses for iPad is designed to replace that app if you already have Ulysses on your Mac. It syncs directly with Ulysses for Mac, so all your content is readily available on your iPad. Both these apps feature Handoff support, so you can continue working on the other device and shift between them seamlessly. If you're used to Ulysses on the Mac, you'll feel right at home here. You have the same three-column layout, the same markup-based text editor and the same customization options. Ulysses for iPad also uses a single-library for all your content, so there's no manual saving of files or choosing destinations. Along with iCloud, the app also lets you choose 3rd-party Storage Providers for external files. Your writing can be exported as PDF, RTF, TXT, Markdown, HTML and ePub as well as other export options. While writing, you can choose between light or dark writing modes and customize the themes, fonts and font-sizes.
Ulysses for iPad is a tremendously great companion app for Ulysses on the Mac and if you do a fair bit of writing, this is a no-brainer. Ulysses for iPad is available on the App Store for just $19.99.