iOS 4 has been around for a while now, and the iPhone 4 makes iOS 4 look perfect to throw a wallpaper on. Still, wallpapers have been spread out far and wide, that a lot of people stick to the default wallpapers. So we've gone through the trouble of scrounging for some good ones, especially since we can see all the beautiful homescreens uploaded on homescreen.me. Rounded up are but a few stunning iPhone 4 backgrounds (and background packs) that fit perfectly behind your app icons without distracting your vision. All these wallpapers are retina display optimised, so iPhone 4 owners, go nuts.
Alert! Don't forget to get to Round 2 & Round 3 when you're done looking through these!
A lot of the times you don't want to rush things, and just take it simple. Black is boring, so here's something that will add some texture, without taking away anything.
Beautiful photography awaits you at Cole Rise's blog. Even if you're not interested in homescreens, it's a sight worth seeing. He has graciously converted one of his shots into an iPhone and iPad wallpaper. Check it out being used on Kyle Rose's homescreen.
What would the world do without a wood shelf wallpaper? Huh? Thanks to itnsltwn for fulfilling the world's needs.
For those who feel like they're being distracted by their wallpaper, here's something that will add colour to that otherwise boring black.
Waldron seems to have a knack for designing slick homescreen walls. His two walls, CandyStripes and GrungyWalls are so creatively designed, it would almost be foolish not to try em on. Check out Ryan Sears' homescreen profile for an example of grungy in action.
Inspired by the wallpaper on the homepage of hs.me, Jimsy went ahead and created a brand new grid wallpaper, that's more refined than the original, and included the PSD should you want to customise it for your homescreen. Check out his homescreen profile for this wallpaper in action. The original comes in a white flavour, which would go especially well with your white 3GS and future possible white iPhone 4.
The much famous unknown wallpaper of Russian origins (Google Translate says the name is Textures), is but a series of colourful bricks — very large pixels if you will. If you're the kind who likes to have the same wallpaper on all your devices, this is the one you should go with. Right from high resolution widescreen, to iPad, to the iPhone, it's got you covered. Showcased on the homescreens of Goobi and Viticci.
Ego by Garett Murray
Practically the exact background of the iPhone app 'ego', there's not much to say about it except… nope, not much to say about it. It's just a bunch of dots on a grey background, and yet it makes perfect sense. There's an iPhone version, iPhone 4 version, and an iPad version. Check it out in action on Ian Hilbert's homescreen.
Blueprints by Alex Robert and Louie Mantia
If you're one for lines and squares, blueprints might just be the right dish served. One by Alex Robert, and one by Louie Mantia. Check out how the complex hard lines of the former look on a real homescreen. UPDATE: Alex says he didn't create that blueprint wallpaper, nor does he know the original author. If you do know who created it, let us know! UPDATE: We didn't find the author, the author found us! Turns out the second blueprint wall was originally created by Brad Hellyar.
Photographer John Carrey of FiftyFootShadows grabbed this amazing shot, that will not just add a beautiful blend of bokeh on your screen, but also eliminate any dust from creating a scene on your glass [Dust on Vahe's homescreen]. Mind you, following the link above will reveal all of his photographic wallpapers, which will cause severe indecisiveness. Proceed with caution.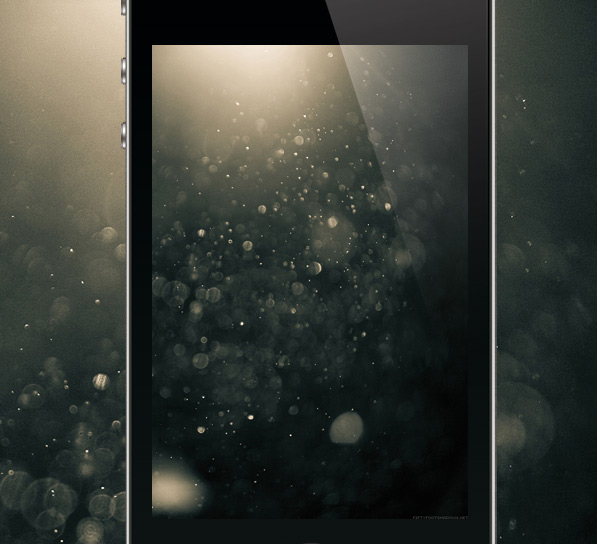 Alert! Don't forget to get to Round 2 & Round 3 when you're done looking through these!