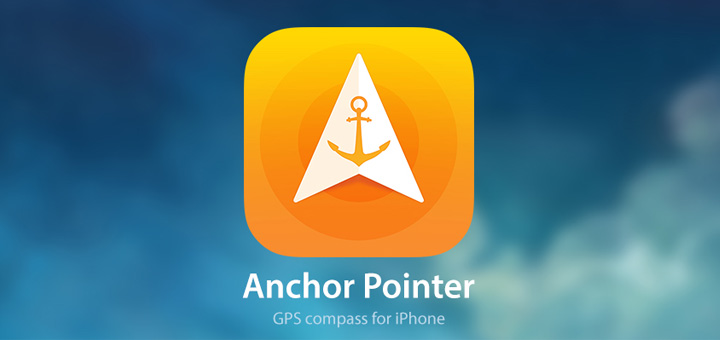 Anchor Pointer is a beautifully designed iPhone app that lets you drop virtual pins (anchors) at different places and then the app helps you navigate to those pins using the built-in compass. The app makes use of GPS positioning to bookmark where you have dropped a virtual anchor and then, with the help of the compass, shows you the direction and distance towards any chosen anchor.
Once you launch the app, tiny blue pointers guide you through the app and it's very easy to get used to it. There are just four buttons on the main screen. The "Add Anchor" button creates a virtual anchor at, and saves a bookmark for, the current location. You can choose an icon and give it a custom name. The Anchors you have saved are available via the "Anchor List" button. There's also a handy "Find Car" button that instantly lets you remember where you have parked your car and find it with just one tap each. If you have a lot of Anchors saved, a dedicated button for this makes sense.
Anchor Pointer also includes a "Meet Friend" feature, wherein you can point the pointer at a friend instead of a saved anchor. This is a handy feature, especially when you're in a crowded large open area. Unfortunately, this feature is powered exclusively via Facebook, so not only should your friend have the app installed, he should be on Facebook in the first place.
Anchor Pointer is a brilliantly executed idea by the developers at Pleeq Software. There's a lovely sound that plays when you reach your Anchor. The app also has some great animations and transitions. I love how it comes with a default Anchor set to Apple HQ in Cupertino. There are Light & Dark themes in the app, as well as an 'Auto' mode. 

The use cases for Anchor Pointer are many. You could use it to save your favorite coffee shop or places while you're on a trek. My only real complaint about the app is that only lets you save an anchor at the current place. So you cannot drop an anchor unless you're physically there.
Anchor Pointer is available on the App Store for $1.99