if (screen && screen.width < 767) {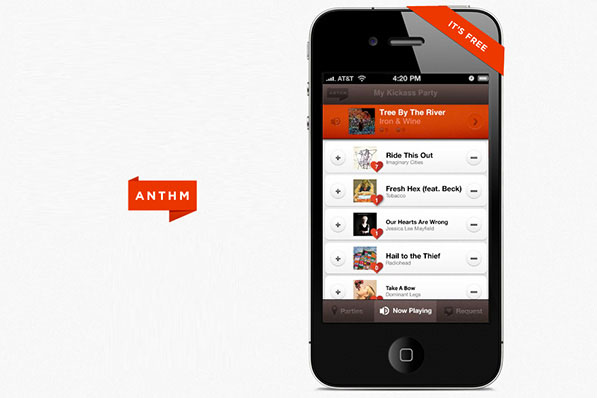 Anthm – Rdio Jukebox for iPhone
---
Ever wanted to throw a party at home but there were too many people with too different tastes in music on the guest list? You wonder how you would manage all the songs and finally set up 20 different playlists to switch between just because some of your friends like metal music but other ones would like to have calm singer-songwriter sounds waving through the room. For that reason, iTunes party DJ, high-priced sound systems and several other small, independent app solutions try to solve the problem by automatically setting up wish lists for songs and voting procedures via local networks or Bluetooth. Now there is another player on the field using Rdio music streaming to provide access to Rdio's biggest range of music for your party — Anthm by App Empire.
With Anthm, mixing different tastes in music is very easy. Just "host a new party" – with privacy password options if you want to keep it closed for insiders, set up the connection with your speakers, tell your friends and you're ready to party (and vote). Using a simple voting chart list, Anthm is like a jukebox playing the most wished songs. Every iPhone user at the location can vote on existing songs or add new ones from Rdio's library.
Sounds like every other jukebox app — but the design is not like anything you'd seen in this section of apps. It's just kickass. It's drop-dead simple, sexy and warm. Rounded, with nice gradients and sexy, individual pictograms. It makes you want to own it, which is pretty easy since it's available free on the App Store. Of course, this is assuming you subscribe to Rdio and host a lot of parties.