if (screen && screen.width < 767) {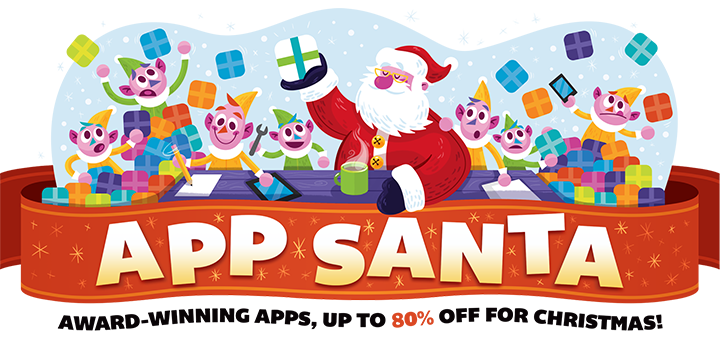 App Santa — Beautiful Apps & Games, Up To 80% Off
---
It's the holiday season, and App Santa has come bearing gifts. Just like the last few years, Realmac Software and friends have come together to offer some amazing discounts on a wide range of apps and games this year. Starting today and until December 26th, we've got 13 apps and 11 games on sale with up to 80% off. We've featured most of these apps here on Beautiful Pixels, so this is a fantastic deal for you to grab.
Apps and Games on Sale
iOS Apps
Mac Apps
iOS Games
This year, App Santa will be donating 25% of their affiliate revenue to App Camp for Girls — a non-profit that works towards promoting gender equity in technology by empowering youth through accessible education, community, and mentorship. We urge you to head over to the App Santa website and support them.
Taking a cue from App Santa's nobility, we've decided to donate 100% of our affiliate revenue from the links above towards a better internet for everyone, so we'll be making donations to both the Electronic Frontier Foundation (EFF) and the Internet Freedom Foundation.
This holiday season, we look forward to your support towards these great causes.