if (screen && screen.width < 767) {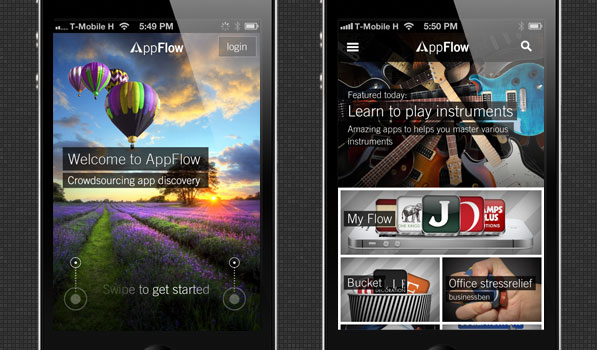 AppFlow – A Visually Stunning App Discovery Experience
---
One of the big features in iOS 6 is the all new App Store. After acquiring chomp, Apple has made its presence felt in the new App Store. The new App Store has been criticized for its new layout making it difficult to discover new apps and its sluggish performance. There are a number of great app discovery apps (Appception) available on the App Store like the AppAdvice app, AppsGoneFree and AppZapp. While the new App Store search is a nightmare for most developers, more and more apps are popping up to help end users discover great apps. AppFlow by Team Distinction is a unique and social take on app discovery.
Team Distinction is known for creating brilliant experiences in their apps. After Cocktail Flow, AppFlow is by far one of the best app discovery apps ever. Using the app is an amazing experience. You begin by swiping up on the main screen of the app and then choosing your app and game interests. Everything from the pull to refresh animation to the layout of the app is done beautifully. Users can save apps they discover in a "bucket". Each user creates app lists that others can follow. There are sample lists present in the app for users as well. The app relies highly on crowd sourcing and I can see more users signing up just for the animations and look of the app. Every transition is fluid and you navigate through lists quickly with as few taps and gestures as possible. The look and feel of the app is hugely inspired from Microsoft's Metro UI and the designers have a brilliant post on the design process for AppFlow on their website. The post also has a few videos demonstrating the animations used in the app. Each app page features a description and the ability to add the app to your bucket or share a link to it. You can pull down for screenshots that are viewed full screen. Minute things like buttons getting pinned to the top while scrolling and subtle appearance changes are executed perfectly here. There's only so much I can do to describe how amazing the app feels to use. The company has a nice video showcasing the app.


AppFlow will hopefully get better and better over time as more users step up and create lists. The lists are available on the app website as well. The look and feel of this app is nothing short of inspiring. You absolutely have to download this on your iPhone just for the look and feel if not to discover new apps. It is available for free on the App Store.