if (screen && screen.width < 767) {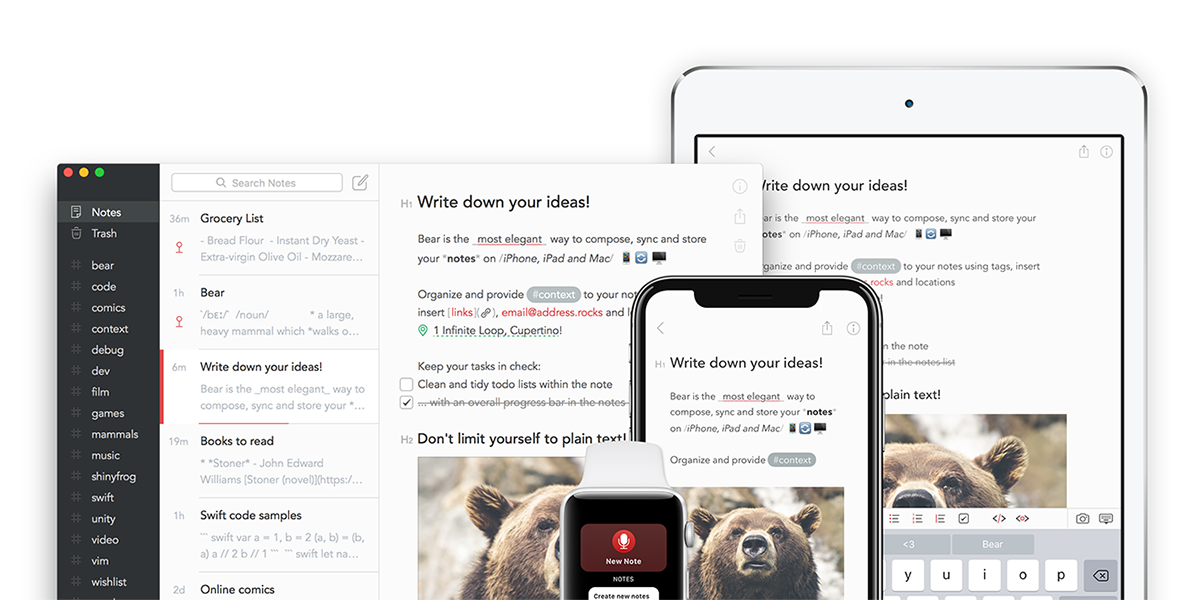 Bear 1.5 Introduces Notes Archive, Custom Icons for Tags, ePub Export & More
The Best Notes App for iOS & Mac Just Got Better
---
We've spoken at length about Bear — the incredible notes app for iPhone & Apple Watch, iPad, and Mac. With a very elegant user interface and a power-packed feature-set, Bear arrived on the scene last year and since then, it has evolved into a solid, reliance and arguably the best notes app for the iOS and Mac platforms.
Today, the team behind Bear is introducing Version 1.5 — a fantastic & free update to this stellar writing app. Here's what's new in Bear 1.5:
Notes Archive
You can now archive the notes that you don't want to see in the main list. This was one of my biggest annoyances with the app, so I for one am super glad it's here. Once a note has been archived, you can still search for it and retrieve it, but it'll be hidden deep inside without cluttering your main Bear app.
Handy Access Sections
The Bear app sidebar now features specialized sections for handy access to your notes. You get one-tap access to Untagged, ToDo, Today, as well as an 'Archive' section once you have archived a note. This is a great way to have an organized UI for easy access, without having to manually spend time organizing your frequently used notes.
Custom Icons for Tags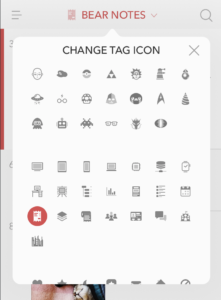 Bear 1.5 offers the ability to set custom icons (TagCons) for your tags. These TagCons were introduced in Bear 1.4 where some specific tags like 'home', 'video', 'receipt', etc. would automatically denote an icon. Today's release lets you choose your own icon from close to 170 icons in the library, with more on their way. Once you set a custom TagCon, it also appears in the header, so you know which tag you're browsing.
ePub Export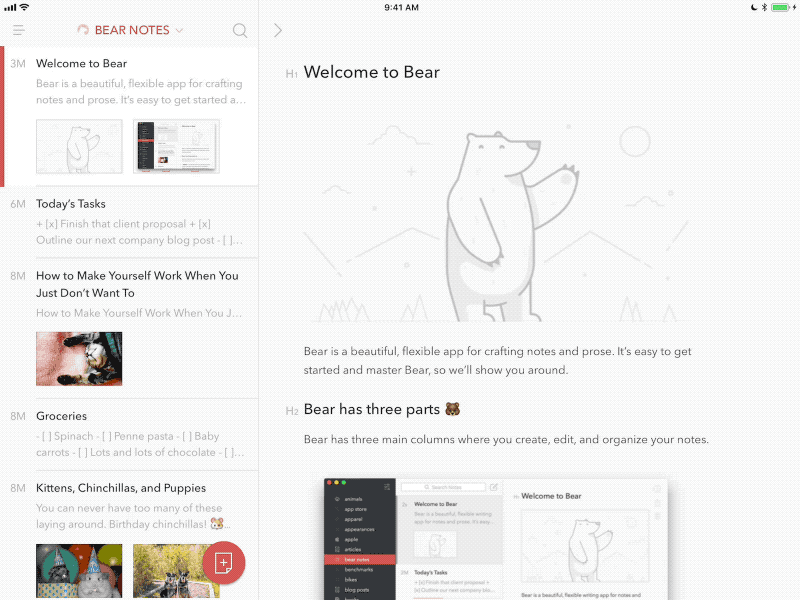 If you're fond of using Bear for writing really lengthy content pieces, you'll appreciate Bear 1.5's ability to export your notes in the ePub format now.
Other Minor Features in Bear 1.5
Bear 1.5 also introduces code syntax highlighting for 3 new languages, taking the total to almost 30. Bear 1.5 for Mac now lets you open a single note in a floating window, simply by double-clicking on it in the Notes list. There's also a new theme called 'Ayu' for Pro users, created by Ike Ku. Additionally, the iPhone-X-optimized theme, Dieci, is now also available on the Mac.
Some of the features detailed above are only available for Pro users, but Bear's Pro subscription is just $15 per year and absolutely worth it.
If you aren't aboard already, Bear is available for Free on the App Store for iPhone, iPad, Apple Watch and Mac.