if (screen && screen.width < 767) {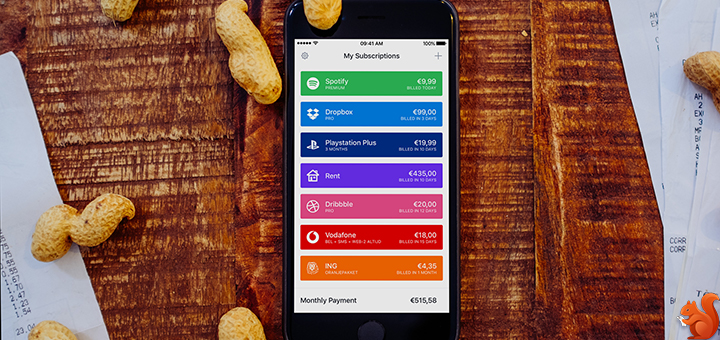 Keep Track of your Subscriptions with Billy
---
The internet has evolved remarkably over the last few years. Today, there are a lot more subscription-based services than there were 5 years ago. A typical savvy internet user usually has at least 10 active subscriptions, to services like web-hosting, music and movie streaming, cellular and data, file storage and syncing, software and related services, etc. As you keep on adding subscriptions, it becomes really difficult to manage and keep track of how much you're spending in a month. If you've ever found yourself in the same boat, Billy is what you have been looking for.
Billy is an elegantly crafted iPhone app by Jeffrey de Groot, Joost van Dijk & Yummygum that makes it insanely easy to add and keep track of all your active subscriptions. It comes with a bunch of ready-to-use subscription services, so you can just add your details such as the cost, cycle, and description if needed. Of course, you can also add your own custom subscription if you can't find what you're looking for in the list.
The app shows all your active subscriptions on the main 'My Subscriptions' screen, with the total monthly payment at the bottom. I love the simple and elegant look of this screen, with the subscription service's logo, name and amount neatly laid out for you. Billy is also capable of reminding you when a subscription is due. The app will send you a notification on the day you choose, which is set independently for each service and with options ranging 1 to 7 days, 1 month, 3 months, 6 months and 1 year before due.
Billy is available for Free on the App Store, but you can only add 4 subscriptions. To add more, there's a one-time $0.99 IAP that unlocks unlimited subscriptions.