if (screen && screen.width < 767) {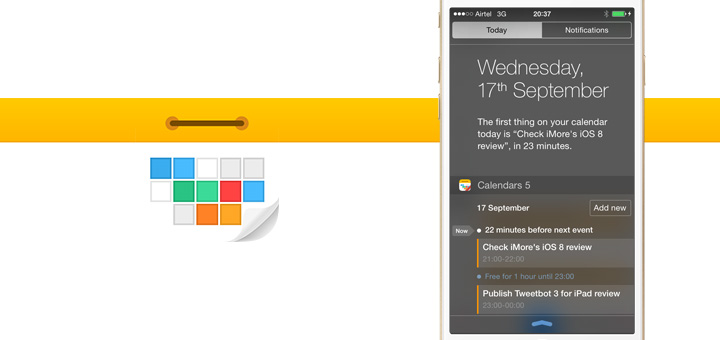 Calendars 5.5 Adds Today Widget & Interactive Notifications
---
Calendars 5 — the gorgeous calendar app by Readdle has today been updated to version 5.5, just in time for iOS 8. This version ships with a enough iOS 8 goodness to make me switch away from Fantastical and I'm quite liking it here so far.
The most notable addition in this update is the support for a Today widget, something the company calls the 'Agenda Widget'. Sitting comfortably in your Notification Center, the widget is easily accessible from anywhere and gives you a quick overview of your upcoming events in the day. I love how the widget shows not just your actual entries, but also the time left before the next event as well as how much free time there is before the next event begins. If you have multiple calendar accounts set up on your device, the events in the widget are color coded accordingly. There's also a nifty "Add new" button at the right that takes you directly to the app to add a new entry, and you can start typing using the app's natural language parsing feature.
The other notable addition with this release is iOS 8's interactive notifications. When the app issues an alert, you can take actions (such as Snooze) right there on the notification without launching the app.
Calendars 5.5 is now available on the App Store as a free update to existing users. If you haven't already, it is available as a Universal app for just $6.99.
(For our coverage about app updates with iOS 8 features, do follow us on Twitter @beautifulpixels or click here for all our articles.)