if (screen && screen.width < 767) {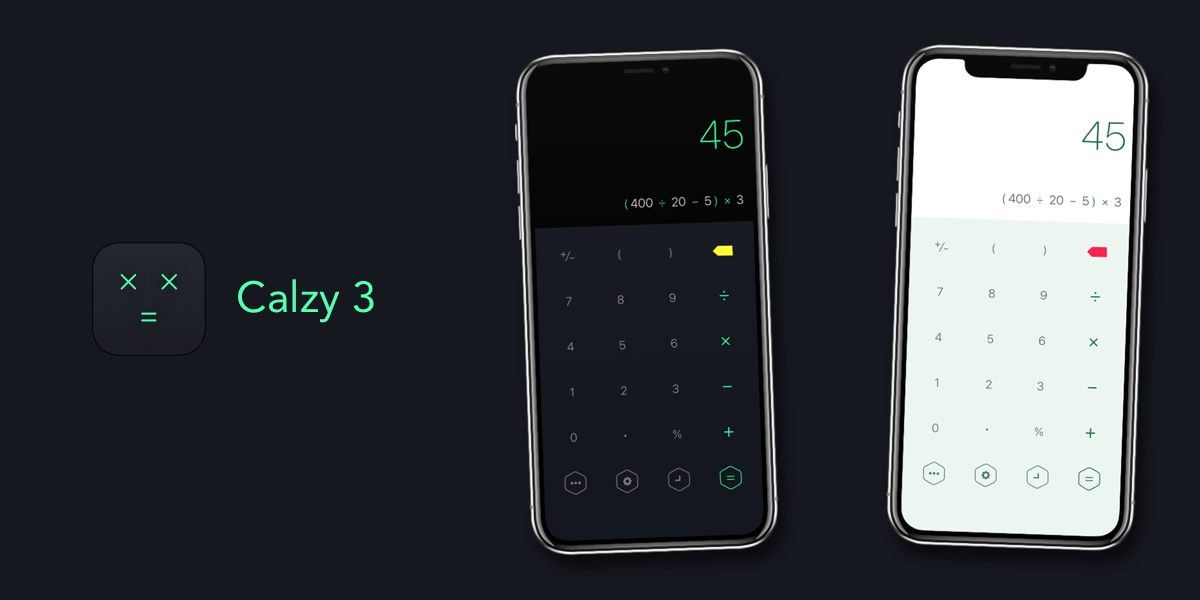 Calzy 3 Review — A Modern, Beautiful & Smart Calculator for iOS
---
Calzy 3 is a modern & beautifully crafted smart calculator app for iPhone and iPad. It comes packed with a incredible set of features and in my testing over the past week, it has managed to completely knock my socks off. This is one of the most amazing calculator experiences I've come across and there are so many good features packed in this release that I recommend that you just go ahead and get it from the App Store and try it yourself — I promise it'll be worth it.
Calzy isn't a new kid on the block — in fact, it was released back in 2013. However, Calzy 3 is a ground-up rewrite of the app that takes modern standards and aesthetic elegance into consideration in its design. Since we've never taken a detailed look at Calzy here on Beautiful Pixels, I'm going to talk about Calzy 3 as if it is a new app releasing today.
The Interface
When you first launch Calzy, right off the bat, you get an idea about how elegantly crafted this app is. Everything is neatly laid out on the screen and looks like it belongs there. There's exceptional attention to detail, even in the little things. The taps on the screen, as you punch in numbers or perform calculations, are accompanied by subtle sounds and haptic feedback. You can change the theme's highlight color from a choice of 12 options, choose between a Light or Dark mode, or even enable an Extra Dark mode for your OLED screens.
If you don't like the default arrangement of keys, you can even move the keys around and make your own keyboard layout. Calzy 3 allows you to move around all the keys visible on screen, so you can have them exactly how you want.
Memory Area
Calzy 3 ships with a new feature it calls "Memory Area". This is a special area at the top of the app to hold numeric values so that you can use them later in your calculations. Remember those M+ and M- buttons on your favorite calculator back in college? This is a simple visual implementation of that feature that takes it to the next level.
Adding values to the Memory Area is as simple as dragging and dropping them onto it. Simply tap and hold on a number and the Memory Area appears at the top of the screen. Just drag your finger over it and leave — the number is saved to the area. To use this value in a calculation, drag it from the Memory Area onto any of the keys to perform the corresponding calculation. Yep, it's really that simple.
History and Bookmarks
Calzy 3 keeps a history of the calculations you perform in the app. You can view your history and share an old result, use the result again in a calculation, use just the expression again. Similarly, you can add a Label to a certain calculation and add it as a Bookmark, so that you can refer to it at a later stage.
Both History and Bookmarks can be locked using your Touch ID or Face ID for added privacy.
3D Touch Buttons
Calzy 3 devotes its entire bottom row of buttons for four special 3D Touch buttons. These buttons each contain handy shortcuts to special features of the app, making them accessible in an instant via a simple force tap and slide gesture. This is my favorite little thing about the app. As you 3D Touch and slide your finger, additional shortcut buttons appear with labels at the top of the list. As you move your finger, the label changes. If your finger is at the top, it'll ask you to slide down. As you lift your finger, the corresponding button is selected. This interaction is immensely delightful and pure joy.
The first button, denoted with three dots, opens More Options (Share, Copy Result, and Paste) by default, and gives you access to the following functions:
Spell Out — The numeric value you've calculated is displayed in words, along with a handy translation into another language of your choosing. Calzy supports English and 65 other languages. This is great for when you're out shopping in a foreign country and want to express numbers, but don't know the local language. There are no audio cues, but you can just show the display to anyone.
Tax + & Tax – — These handy options let you quickly add/subtract a pre-configured tax value to/from your calculation.
The second button opens 'Settings' by default, and gives you access to the following functions:
Toggle Dark/Light Mode
Toggle Currency Rounding
Toggle Basic/Advanced Mode
The third button opens History by default and gives you access to the Bookmarks while the fourth button is the = button and lets you quickly add a new bookmark.
Video Demo of 3D Touch in Calzy 3
Other Notable Features
Calzy 3 offers the same amazing experience on iPad as it does on the iPhone, even without 3D Touch. You get support for Drag and Drop, Slide Over and Split View modes, as well as support for external keyboards. It supports Handoff, so you can carry on with your calculations on another device. With iCloud Sync enabled, your Settings, History, and Bookmarks are synced across your devices.
There's also a handy companion app for the Apple Watch and an iMessage extension for when you need to quickly calculation something in the middle of a conversation.
---
There's so much packed inside Calzy 3 that it's nearly impossible to talk about it all, as much of the features are best experienced in person. Calzy is one of the finest calculator apps on iOS and it's easily one of the best apps to have installed on your device.
Get Calzy 3 for $1.99 on the App Store →
Video Demo of Calzy 3
---
Preshit Deorukhkar is the former Editor-in-Chief of Beautiful Pixels. He is now a Freelance Consultant, Principal at iXyr Media & SharpShutter Media. You can reach him on Twitter @preshit