if (screen && screen.width < 767) {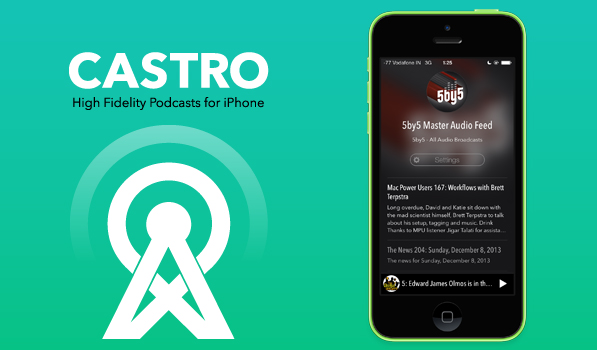 Castro – A Simple and Elegant Podcast App for your iPhone
---
I subscribe to a lot of podcasts. I also keep testing out new podcast apps. When iOS 7 hit, a lot of apps have gone through massive design overhauls. On the podcast side of things, Pocket Casts is my favourite app. It is great on iOS and Android because of its cross platform rock solid sync and its amazing look across the board. It seems like Podcast apps are the new..you know what I mean.
Supertop, the developers of the famous promo code management app, Tokens just released Castro for iPhone. Castro excels in two main areas. It is dead simple to use and I absolutely love the playfulness the app has with its elegant look and feel. With a lot of apps, an iOS 7 UI update means losing a lot of the character the app originally had. I find it sad when I see some apps that were amazing on iOS 6 now go all white and not do much anymore. Castro on the other hand is an app that understands what an iOS 7 app is all about. There's some great blurring done giving views an amazing look while keeping the text content at the forefront. Animations are subtle and plentiful giving the app a lively feel. It is also heavily gesture driven. Castro also has a nice animation for a progress indicator. After podcasts are added, They are listed in a very plain view with a toggle on the top for podcasts and episodes.
[showcase id="10623″]
Castro tries to keep things a little too simple. On first launch you are prompted to add a podcast. Tap the + symbol and the nice and dark add view slides up with a short bounce. There is no way to organize any of your podcasts here. Each podcast has its own page with the podcast artwork blurred for the background. In almost every case, this looks really good. The podcast page has all the episodes listed with older episodes dimmed. The podcast artwork on top reduces in size as you scroll down similar to how Felix for App.net does it in the profile view. The settings for each podcast lets you set it to news mode which only keeps the latest episode, adjust the playback speed, set the podcast to auto download when new episodes are available. I really don't like not having an option to swipe to delete a podcast from the main page but having to go into the podcast settings and toggling the Subscribe button.
Playback is handled very nicely in Castro. While most apps have resorted to a fullscreen artwork playback page, Castro just has a mini player at the bottom with a few controls and tapping that brings up the episode page with show notes. I love the implementation of fast forwarding and rewinding. In the episode page, the bottom player can be dragged to the right or left to scrub accordingly. There are no sharing options for podcasts or episodes and links in the show notes open in Safari. Being an iPhone only app, there is no sync yet. It does however have full background download support with push notifications for new episodes.
Castro isn't as feature rich as many other Podcast apps but it feels like the app Apple should have made for iPhones. If you're looking for a no nonsense podcast player for a single device, look no further. Castro for iPhone is the app for you. Castro is available on the App Store for $2.99* until the first update hits.