if (screen && screen.width < 767) {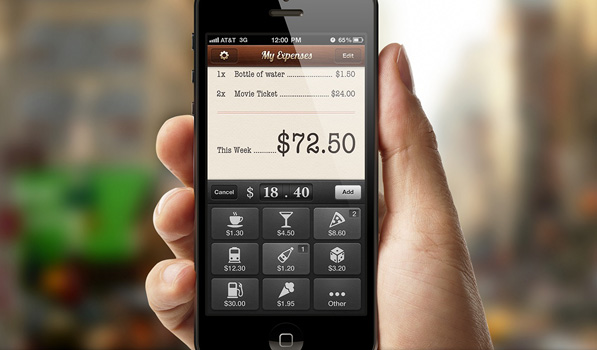 Cents Makes Filing and Tracking Micro-Transactions Easy
---
Ever wanted a quick and easy way to file your daily micro-expenses and track the overall expenses you make? What if there was a quick and easy way to do this every day? Well, then take a look at Cents — it might just be what you've been waiting for.
Cents is a beautiful iPhone app designed by Gordon Irving (who also designed Strophes for iPhone that we showcased yesterday) and developed by Marco Bellinaso and Francesco Burelli. It gives you a simple interface to file and track your daily micro-transactions with a few simple taps. Cents offers 8 pre-set buttons that you can customize to your most frequently used items and values. For example, you may be purchasing a daily bus ticket on your way to work or that cup of coffee from that street vendor in the evenings. You can add these items to the buttons — cents lets you customize the value, title & icon for the button — and then entering & filing them is just one tap away. You can also file a custom value using the 'Other' button. By default, Cents uses the $ currency, but it also supports the ₵ € £ ¥ ฿ ﷼ ₹ symbols. Since there's no currency conversion involved, using any symbol should work just fine.
As you enter the values and tap the Add Button, your expenses are filed and Cents gives you a neatly tabled, receipt-like summary at the top. You can view your monthly, most recent and this week's expense in a very beautiful layout just above the keypad. You can slide the keypad up or down to show or hide it. There are sounds included in the app for this action, but I don't think it fits well enough. I also wish the Navbar design was somewhat different, this one feels very 2011-ish.
Cents isn't meant to be a feature-rich, "track-everything" finance app. It is for those little daily transactions you make or the ones that you're generally curious about. Cents is available Free on the App Store, but is limited to 15 expense filings a month. Cents does allow you to increase this number by spreading the word about the app on Twitter & Facebook or leaving a review for it on the App Store (which gets you 5 credits each). Alternatively, you can purchase +30 credits for $0.99 or go Unlimited for $1.99.