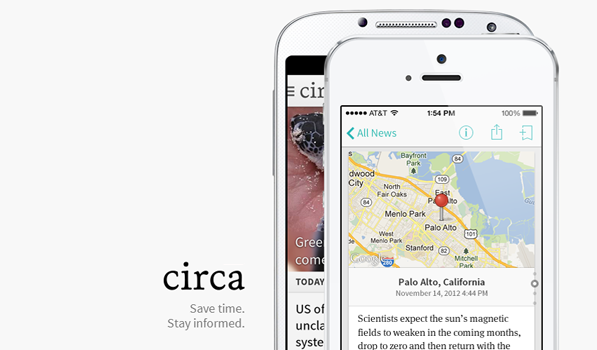 Our commutes are getting longer, so are the lines at the Coffee shops. In what we call 'fast lives', we sure have a lot of filler time we spend doing absolutely nothing. It's hard to do any work or read a long form piece wedged between a sea of people on the train to work. Reading short pieces of text though? Everybody's got time for that. This is where Circa News (Circa from here on) comes in.
Circa is available on iOS (iPhone only) and Android. The User Interface is really clean and the typography is splendidly selected. Circa is in every way a Modern app, free from the realm of Skeuomorphic overlords. The icons are thin and flat, animations are kept to a minimum (except in iOS, more on that later) and quickly swiping through the already minimized pieces of text is a joy.
The app provides you with curated topics to choose from. You don't have to add your RSS account or import any of your feeds. One of the major selling points of Circa is that it has its own editorial team. They work hard behind the scenes, turning long form articles to byte-sized pieces of text you can read through quickly. Topics that you can choose from include Unites States, Politics, World, Technology and Science & Health. You can also see the Top Stories across these topics. If you find a story interesting, simply click the 'Follow' button and the updates will show up in the 'Followed' section along with other topics.
The process of reading news has been rethought by Circa. Instead of having the entire screen covered in text, you get specifically formatted cards that you can scroll through, much like the new website for the iPhones. It helps you concentrate on the content as everything else fades away in the background. While this is a great way to quickly read text, I found that some cards would just be a sentence or two long and would only take a small part of the screen. Scrolling multiple times to read a short piece of text seems counterproductive to me. Luckily, these experiences are few and far.
Circa looks almost exactly the same on both platforms, but there are subtle differences. Buttons on iOS have a thin outline and are hollow, while the ones on Android have a dark fill. While scrolling through the cards, Circa on iOS has a subtle bumpy animation which is not present on Android. Circa on Android integrates the Sidebar, so you can quickly jump through different topics by swiping in from the left when not reading an article. On iOS, this is the universal Back gesture and works the same way. Circa News is available as a free app and you can download it from the App Store or Google Play.