if (screen && screen.width < 767) {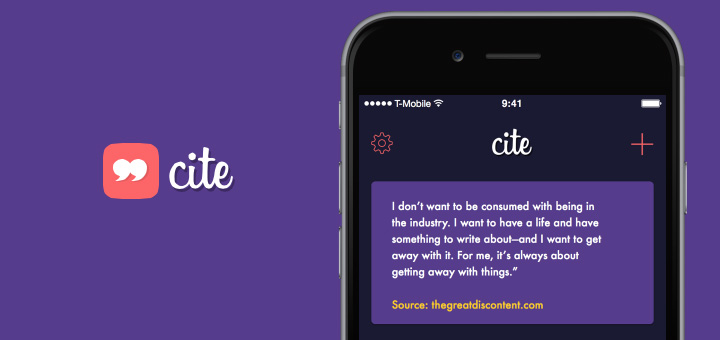 Cite Shares Highlighted Text as Screenshots
---
Last month, we told you about OneShot, a brilliantly executed iPhone app that lets you share screenshots with highlighted text from an article or any other block of text. OneShot creates a beautiful image containing the text that you highlight, which you can then share with your friends and followers on social media. Today, we have Cite, another iPhone app that does the same thing, although it takes a shorter, more practical route to achieve this.
Cite is designed to make the process of recommending articles worth reading much more interesting than it already is. Just like OneShot, Cite creates screenshots with the text that you select. However, both apps differ in their approach. With OneShot, you have to take a screenshot of the article or text that you want to highlight and share, launch the app, mark the text you want to highlight, select background color and then share it. Cite on the other hand works as an extension, either through the in-app browser or through Safari on iOS 8. Whatever page you're on, simply drag and select the text (up to 380 characters) and hit the Cite extension. Cite works its magic and presents you with a beautifully formatted screenshot, along with the title and link of the page. You can add your own text or edit the title and link before posting to Twitter. All the images you've shared are available within the app. Here's an example:
Jason Snell's initial reactions to the Apple Watch – http://t.co/LaBnO4dSnG pic.twitter.com/0HNmlyZzjQ

— Preshit Deorukhkar (@preshit) April 28, 2015
Unfortunately, Cite only currently works in Safari, but the developer says that support for other apps is coming soon. Cite also only works with Twitter, there's no way to save the "textshot" image to your Camera Roll or share it to other social networks. I still very much like Cite's workflow over OneShot. You can get it Free on the App Store.