if (screen && screen.width < 767) {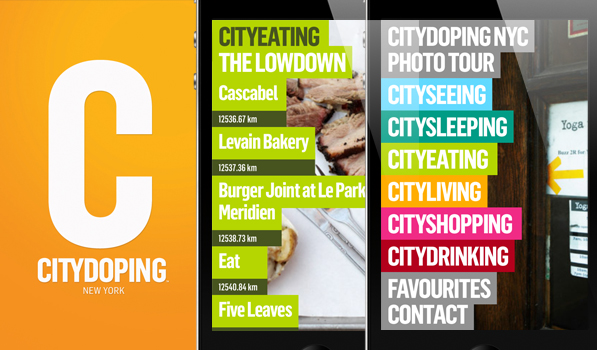 CityDoping NYC is the Most Personal and Good Looking Guide for New York City
---
People use their iPhones more when they travel. Everyone has that flight tracker they love and a local discovery app. Most of the actual guide apps usually contain the same information about popular spots. There aren't that many apps that are actually created with help from a group of people living in a particular place. This is where CityDoping comes into the picture. The team that brought us the lovely Sarah Jenkins' New Italian Pantry is back with CityDoping New York City.
CityDoping NYC (henceforth CDNYC) has been created by people who love to travel and are from across the globe. The information within the app is from people living in Manhattan and Brooklyn who actually visit these places and not a visiting travel writer. Upon launching the app you are greeted with a lovely image from NYC with great looking solid colour tabs indicating what the app has to offer. CDNYC is full of solid colours and polished animations. You can view a variety of different types of places from hotels to great places to shop at. Tapping any of the City categories will slide everything else out to the left, slide a photograph of what you tapped on and display a list of places under that category. The Lowdown section of each category is beyond awesome. There's a short paragraph for each one where the developers tell give you some information about how they decided on places and throw in some humour. This adds a personal touch to the app. Each location or place mentioned has the distance from your current position below it and tapping on anything takes you a detailed page where you get more information about it including the necessary social media links and the ability to call or add it to favourites. You can tap on an image at any time to display it full screen and then swipe through a gallery of great looking things in the city.
CDNYC is a great example of how unique and great something as menial as a city guide app can be. The app has so many nice things about it like the favourite button turning into a broken heart to remove a location from your favourites and the colours combinations used to display text. Unfortunately the app is yet to be optimized for the iPhone 5 screen. I also can't believe the twitter bird used in the location detail page is the old one. Barring those issues, CDNYC is an essential app if you plan on visiting the city. CityDoping NYC is available on the App Store for $2.99.