if (screen && screen.width < 767) {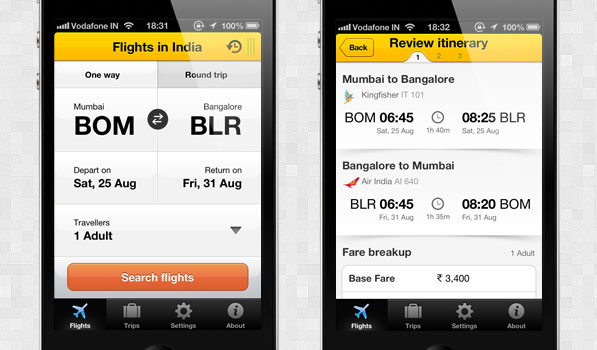 Cleartrip — Tap. Swipe. Fly
---
While it is always great to see more and more big companies invest into mobile apps, these apps are rarely pleasing to the eye. Most of them are poor attempts at putting something out just to say you have a mobile app available. Cleartrip.com, one of India's most convenient travel booking sites & known for their simplicity and reliability also finally released an iOS app a couple of days ago.
The Cleartrip app is full of good typography and great subtle animations. The Cleartrip website has had a split screen search for round trips that I have always liked and they have brought this into the app and it works brilliantly. Searching for flights is a joy here. There is a nifty calendar sliding up animation for picking dates as well. The problem with any travel booking app is the sheer amount of information that has to be displayed to the end user and this app does it really well. There are some views that look slightly cluttered like the round trip flight selection but the way the price changes in real time to reflect changes is very elegant and this almost makes up for the slight clutter. You can arrange flights by departure time, duration and price. Changing the date as well is very simple to do and can be done by tapping the date on the top. The app also provides you with a nice filter setting that is reminiscent of the settings menu in Sparrow for iPhone. The filter gives you a few time options and airline options. If you have a Cleartrip account, you can log in and keep track of all your trips and also access your expressway settings. Payment can be done by credit or debit card, Net banking and your Cleartrip account. I like how coupon codes can also be used within the app. The designers have done a great job of making the tab bar look like the one in iOS 6 that we have seen at WWDC as opposed to the stock one available.
The major downside right now is the lack of international flight booking in the app. There are a few buttons that feel out of place and the about page in the app feels out of place. The tweet and email buttons do not use the native Twitter and Email sheet integration and instead open the Safari and Mail.app respectively. There's a "Customer Support" button as well, tapping which directly dials their customer service number without a popup. Other than these issues, Cleartrip's iPhone app is well executed and I look forward to using it instead of their mobile website. You can download the app for free from the App Store.