if (screen && screen.width < 767) {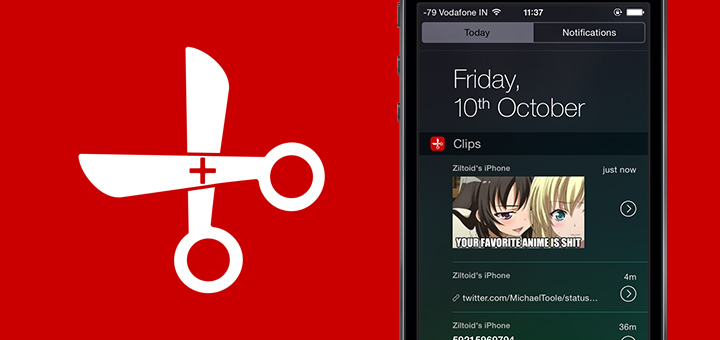 Clips is a Supercharged Clipboard Manager for iOS 8
---
Clipboard management on iOS is tricky. Most solutions until now were either half baked thanks to the OS limitations or just plain painful to use. Clean Shaven Apps of Dispatch fame have released a fantastic solution to clipboard management on iOS with Clips for iOS 8. The app is universal and it is one of the most powerful and well designed apps on iOS.
Clips has four parts. The first and most important part is the today widget. When you copy something to the clipboard, Clips' widget updates and lets you add it with a tap. This is synced to your other devices over iCloud. The widget isn't just shortcuts like the Dropbox widget. This is an actionable widget that lets you quickly access and copy your clip content. You can copy the content by URL or Title with URL. Clips even supports inline images in the widget although most images taken from the phone camera are too big to display in the widget. Swiping across a clip from left to right or tapping it will copy the content. Tapping the > will reveal more options.
The second part is the custom keyboard. What good is a clipboard manager if you cant easily access your past clips right? Clips can be added as a 3rd party keyboard and it is a fully functional qwerty keyboard. On switching to the custom keyboard, you get a scrollable view of all your non image clips with similar actions like the widget. Clips' third part is a universal clipper across iOS that is present in the share menu. This lets you add content and copy it from any app supporting the native iOS 8 share sheet.
The app itself is a fully functional clipboard manager with settings for how many clips to keep, custom copy templates, and the usual walkthrough and about sections. The interface is simple and you wont be spending too much time within the app. Since the app doesn't clip everything you copy by default (I like it this way so i don't need to worry about passwords and such), adding stuff takes an extra tap in the widget.
Clips for iOS 8 is one of the best apps to come out for the platform and has already become essential in my workflow across both devices. I can only hope a companion menu bar Mac App is on the way. The shocking part is the app is available for free with an in app purchase of just $1.99 that unlocks iCloud sync and unlimited clips. Get it now.