if (screen && screen.width < 767) {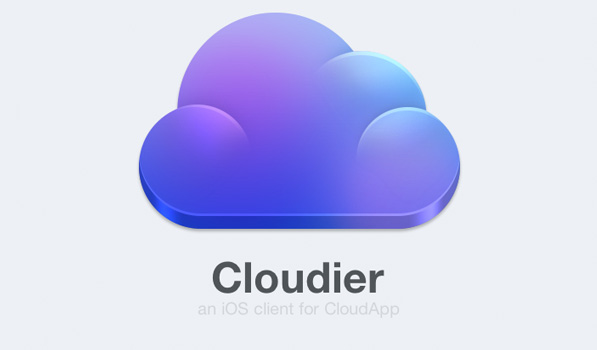 Cloudier is a Delightful CloudApp Client for iPhone
---
Services like CloudApp and Droplr have become immensely popular these days. You can sign up for a Free account and start sharing shortened URLs, images, screenshots, text or even videos or files with a few clicks. Both the services have had a nifty Menubar app for Mac that make sharing anything on Twitter ridiculously easy, especially using the global keyboard shortcuts. I've used both the services, along with their Pro plans in the past and have currently been using Droplr primarily on the Mac. But thanks to an app that came out today, I might just move back to CloudApp.
Debuting on the App Store today, Cloudier is a simple client app that brings the features of CloudApp to your iPhone. Built by the Designer-Developer duo of Jackie Tran & Benjamin Mayo (known for his Bingo Machine app), Cloudier packs a delightful user experience that makes it stand out from the rest. The app has intricate level of detail and pixel love added to it. As soon as you launch the app, you'll notice its pale grey color scheme. You can use the app to upload an image, video or a block of text or create a shortened URL by saving a bookmark. Cloudier also allows you to upload multiple files as a grouped ZIP archive. When you tap the "+" button on the main screen, the 4 icons slide in from the sides. Cloudier has a nifty "Use Last <> Taken" options for both Image and Video uploads while it can also 'Use Clipboard Contents' for the block of text. As your selection uploads, the cloud in the Nav bar at top turns purple with the % of completed upload. After the upload completes, you see a checkmark in the cloud and the CloudApp URL is automatically copied to the clipboard. You can tap the 'All" view and view your upload in there, and you can also share it to Twitter, Facebook, Mail it or even Rename the uploaded file. On the main screen, you can filter via Upload type making it easy to find the file you're looking for.
Cloudier also takes the cake for having one of the best animations I've ever seen in an iPhone app this year. In the Settings screen, Cloudier has a slider to set the amount of compression on the uploads. While the slider itself is gorgeous, the subtle animation as you slide the slider and the "None/Low/Medium/High" settings come into focus while others are blurred out is remarkably excellent. If you've followed my articles on this site, you'll know that apps which let me discover delightful interactions like these score high points from me. Cloudier is right up there with this one.
At $2.99 on the App Store, Cloudier is a solid, aesthetically gorgeous and delightful CloudApp client for your iPhone. Unless you're too attached to Droplr like Mikhail, you should go ahead and buy this already.