if (screen && screen.width < 767) {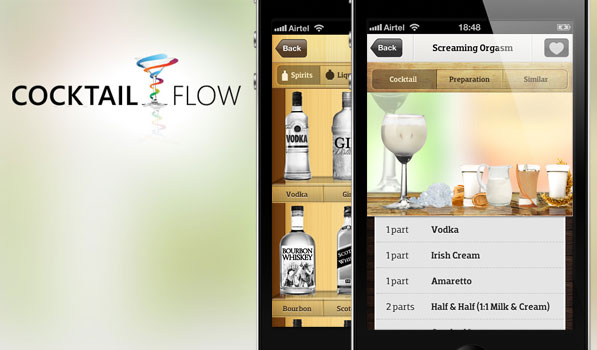 Cocktail Flow — Picking Your Drink Was Never This Beautiful
---
Here's another beautiful cocktail recipe app that has me thirsty and craving for some spirits. Back in August, we took a look at The Cocktail App — a stunning and beautifully designed iPhone app that had me go, "Holy mother of Arkham Asylum Batman, I've got to put this up on Beautiful Pixels. There are so many deliciously yummy pixels put together in this app, that it's not even funny." Today, I came across another app of the same kind that is equally beautiful, and may be a better app overall for most of you.
Designed and developed by Distinction, a mobile app design and development studio based in London and Budapest, Cocktail Flow is a gorgeous collection of pixels that's available on iPhone, Android and even Windows Phone 7. In fact, the app was available on Windows Phone 7 and Android before it arrived on iOS. The app features some amazing screens and little animations that make you smile. You can browse by category to pick your drink or select from the liquor you have in your bar and it'll tell you which drinks are possible. I really like the way the bottles are laid down on the wooden shelf.
The app is FREE on iOS and Android, but costs $2.99 on WP7. You can download it for your phone from the links below.
I should mention here that I first discovered Cocktail Flow on a cousin's Galaxy Note and was going to feature it here, glad that there was finally a beautiful Android app to write about. Unfortunately, I later found out that the developers had also released it for iOS and WP7.