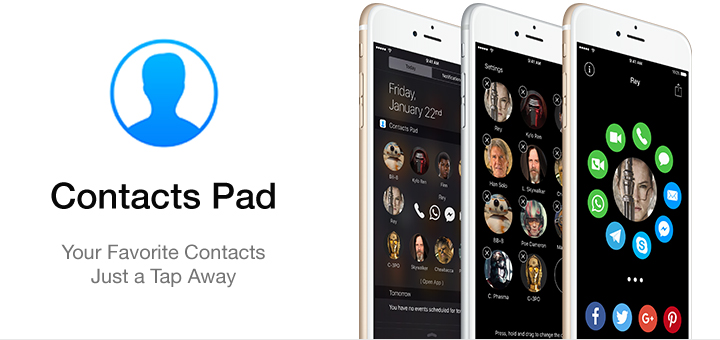 Contacts Pad — Your Favorite Contacts Just a Tap Away [Sponsor]
---
Perhaps you have dozens, hundreds or even thousands of contacts in your Address Book, but how many of them do you actually use on a daily basis? Exactly, just a few, like everyone else.
For those people that you contact often, Contacts Pad provides you tons of ways to communicate with them. From WhatsApp, Telegram, Snapchat or FaceTime to Facebook, Twitter or Instagram. Simply open the app, or better yet, do it right from your Notification Center.
Some key features you can expect in-app:
Beautiful and handy app that keeps you closer to your favorite and most frequently used contacts.
Widget for the Notification Center to quickly chat, start calls or send messages right from within any app or the home and lock screens.
Very easy to configure and use, simply add your contacts once, then just tap on them to quickly access all the available actions.
Supports Phone, FaceTime, FaceTime Audio, Mail, Messages, WhatsApp, Telegram, Skype, Facebook Messenger, Facebook, Twitter, Instagram, Google+, Pinterest, Snapchat, LinkedIn, Kik, Vine, Periscope, Tumblr and Flickr.
Many di erent styles for you to personalize it and make it look just the way you like.
Want to see Contacts Pad in action?
Contacts Pad is priced at $1.99 (USD) and distributed exclusively through the App Store in the Productivity category. The app is available in English, Spanish, French, German, Italian, Japanese, Korean, Portuguese, Romanian, Russian, Simplified and Traditional Chinese.