if (screen && screen.width < 767) {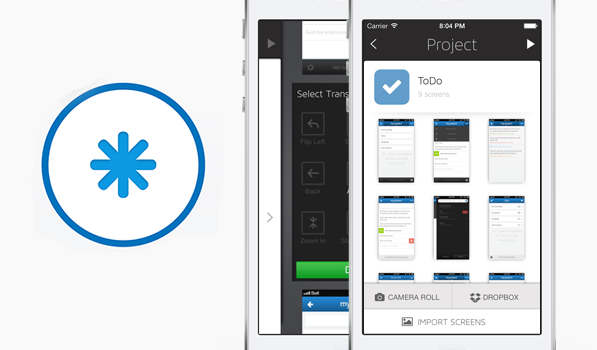 Demonstrate Lets You Demo Your Apps
---
We wrote about Briefs earlier this year and mentioned how the app was not aimed at casual users just getting into design or development. Today we're writing about Demonstrate, a simpler app that is available just for iPhone. Although straightforward, Demonstrate is still very useful and will provide a dead simple way for developers and designers to demo their apps without writing any code. It creates fully playable app demos from screens that you can tap on & interact with, including animations.
The app greets you with a nice tutorial on first launch. Once you're through the tutorial, you're prompted to create an account, although you do have the option of signing in via Facebook or Google if you want. You'll notice some nice colours, beautiful thin fonts and iOS 7 style buttons used throughout the app. The 'Home View' of the app shows you all your Projects and also lets you view your exported projects by tapping on the button at the bottom of the screen. You can add a new project by tapping on the '+' button on the top right. Deleting a project is similar to deleting an app from your homescreen on your iPhone. It's really nice that the developers have thought of keeping the experience seamless with the stock OS. Next, you can give your project a name and an icon and then start importing Screens. Screens can be imported from Dropbox or from your Camera Roll. I really like the UI elements used in the app, they're clean and beautiful. The most amazing thing about Demonstrate is how quickly and easily you can create an entire mockup for your app. You can draw your app's screens on paper or even through an iPhone app and use that, all within minutes. Since you can import from Dropbox, it doesn't matter where you created your image as long as you've copied it to Dropbox.
In the project view, you can tap on each screen and begin adding Hotspots and linking them to other screens. Just tap on the hotspot and you will be prompted to add a link, choose your destination screen, and then choose from a variety of built in iOS transitions such as Slide Up/Down, Flip Left/Right, Forward/Back and many more. I was quite impressed by how well the app handled the addition of hotspots. Once you've added links and hotspots to your app, you can play a demo by tapping the Play button. Pinching in lets you quit demo mode. You can delete and replace screens by tapping and holding on them while in the 'Project View'. Exporting is another useful feature of Demonstrate. To export a project, simply pull down in the project view. The animation that plays when you pull down is absolutely lovely and takes you to the 'Export View'. Projects can be exported to Dropbox or as files that can be viewed in the Apps tab in iTunes. You can either export your project as 'Editable' or 'Play Only'. The exporting animation is delightful as well and I love how the little asterisk rotates as your project exports. Once you have the link to your project, you can share it with a team member or anybody else so that they can view your demo. This person must have Demonstrate installed on their iPhone in order to view the demo.
You should connect the app to Dropbox for importing screens and projects. If you don't, the app continuously prompts you to connect to Dropbox when you pull down on the projects view or when you tap on the export projects button on the Home view. Demonstrate will be immensely useful for app developers and designers, especially since you can use any images as your app's screens, including images you draw on paper. The app is available Free on the App Store for up to 6 screens and one project. Adding additional screens or Projects will cost you $4.99/month for unlimited screens and projects.