Now you don't even have to Dribbble before you Dunk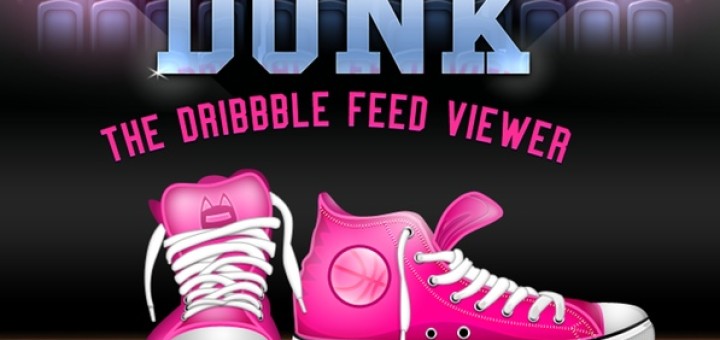 Robocat Apps announced their new app Dunk for the iPhone two weeks ago. It is a client for the quite young but famous web service dribbble. dribbble, as you know, is a place where designers from all around the world can post whatever they are working on; a great resource for inspiration and to follow design processes.
And now, dribbble is native on the iPhone. The app is designed as gorgeous as you would expect it from Micheal Flarup. You do not necessarily need a dribbble account — if you are not yet invited to be a dribbble member, you can still watch the uploaded files in a really nice gallery, from which you can view the uploader's profile and comment on images. What is quite strange is that Dunk just runs in landscape mode. It's an obvious decision at the end, because dribbble users upload files with a size of 400X300 pixels or less — and for this size the landscape mode is suited perfectly. But though there are some missing features be sure to check it out, because it is really unique to use and provides stunning images integrated into a sleek UI. Get it for $1.99 on the App Store.
[Editor: I totally don't think this is a beautiful app. While the pixels might be alright, Flarup has messed with standard UI conventions. To bring up the menubar HUD, you have to tap the upper half of an image; to bring up the comments and info, tap in the lower half. What's the point of this? We've already established a single tap as a way to bring up the HUD, and push up to show comments and info. To add to that the HUD is not overlayed but a solid bar that slides down the image. I found it totally frustrating to browse Dribbble this way.]