if (screen && screen.width < 767) {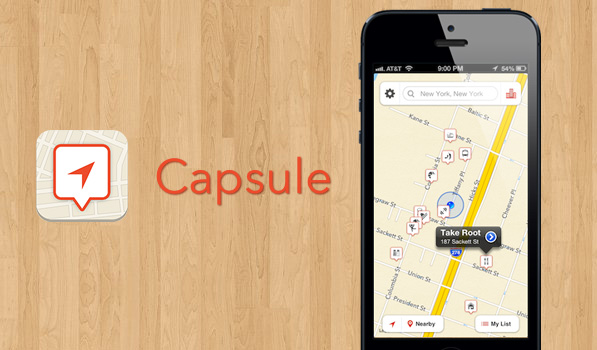 Easily Bookmark Places with Capsule
---
Capsule is a really neat app for bookmarking your favorite places on your iPhone. Powered by data from Foursquare, Capsule lets you save the places you want to remember for later using a few easy taps and maintains a simple list for your perusal.
Capsule has a very minimal UI, using only the essential UI elements that are floating on a map view. You can move around in the map view to any location and tap the "Nearby" button at the bottom to show you all the places that are around you. Alternatively, there's also a 'locate me' button so that the map centers at where you currently are. An floating search bar at the top lets you search for a specific place or you can just change your location to any other city by using the red building glyph to the right. So if you're planning a trip to Venice next month and are looking for places to visit, you can search and maintain a simple list in here. You can add tags & notes to the places you've saved in Capsule and the 'My List' lets you easily search them by name, category, tags, note or street. Since the data is powered by Foursquare, Capsule gives you additional information like the actual address or tips from other Foursquare users and has nifty buttons for viewing the map, getting directions or sharing the place onto a social network.
Capsule is a really nifty app if you love exploring new places and want an easy way to save them. Foursquare already has a huge collection of places in their database, so you'll almost always find something in there. Capsule is available for $1.99 on the App Store.