if (screen && screen.width < 767) {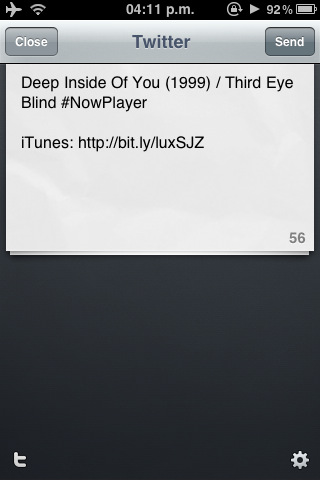 Elegant, Gesture-Rich Music Experience with NowPlayer
---
I stumbled upon NowPlayer a few days ago on Twitter, and it didn't take me long before I was convinced that it deserved a place here on Beautiful Pixels.
NowPlayer is a beautiful music player app for your iPhone and iPod touch that lets you share what you're listening to, on Twitter, Facebook or via Email. The app supports customization options in the form of 2 UI Styles (Light and Minimalist) and 7 Album Artwork Themes, all of which are spectacularly designed. You can even set up a custom background.
The app lets you fully control your music through gestures, so I personally prefer the minimalist UI with the Fullscreen Album Artwork theme. This UI on the stunning Retina Display of the iPhone, coupled with The Glif looks great on my desk.

NowPlayer is priced at just $1.99 on the App Store for the full-version while a 'Free with Ads' version that also lacks the UI customizations is also available. A recent update to the app also added Last.fm support.