if (screen && screen.width < 767) {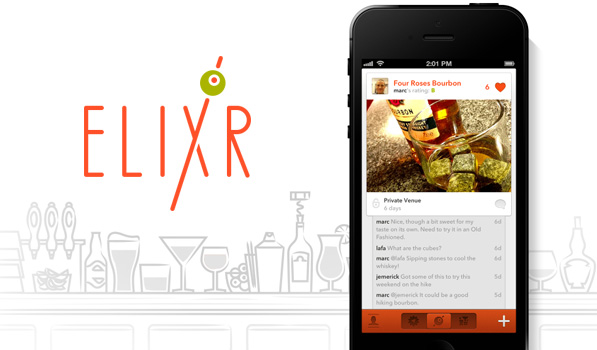 Elixr Lets You Post and Discover Great Drinks
---
I'm a sucker for delicious servings — be it in the form of food, drinks or well, pixels. Well designed pixels are just as capable of leaving me drooling as a serving of Butter Chicken and Naan combined with a drink is on the table. Mobelux's new app Elixr manages to bring a crazy combination of great tasting drinks & dare I say ultra-sexy pixels to your iPhone. Elixr is a social discovery app for iPhone that lets you take photos and document with filters (yes!) what you're drinking and at the same time, lets you discover some great drinks and new places that your friends and followers have visited and recommended.
If you haven't heard of Mobelux before, it's a talented group of designers and developers based in Richmond, VA that craft software for iOS and Android. We've already covered their previous work here with Carousel, the Instagram app for Mac and they're also the guys behind the official Instapaper Android app. A few minutes with Elixr and you already realize that there's some serious talent at Mobelix. The UI of Elixr has been meticulously crafted to be incredibly good. I absolutely adore the polish it has undergone. Right from the sign up screen, your experience is made more joyful with little animations and transitions between views.
The app lets you post photos and related information of what you're drinking and where. You can rate the drink based on your liking, so that others know what it was like and your rating helps build a grade for the venue you're at. Similarly, you can discover some popular venues with great drinks rated and recommended by others around you. The UX for posting the photos is simply marvelous. You have live previews of how your photo will look like as well as a wide range of filters to choose from. You can either tap to click a photo right away or choose to have a 3 second delay before it snaps a pic. Elixr pulls the list of venues from Foursquare. Next, you choose the type of drink (Cocktail, beer, Wine, Spirit) and you're presented with a long list under each category. Here, you can rate the drink, leave a comment and share it on Facebook, Twitter, Tumblr, Foursquare or Instagram.
The main screen has a bar at the bottom that contains 3 tabs. The first lets you explore and view venues near you, the center tab is the stream of photos from your followers while the third is sort of the trending stream. You can drag this tab bar up from the bottom-left to view your profile, the photos you've posted and any activity on them.
Elixr is a lot more fun when you import your friends and start following them. I highly recommend you try this app out, at least to see the perfect example of how designers and developers travel that extra mile to polish the experience their app offers. Little things like the olive pins on the map or the loading animation are what make this app so great. Elixr is Free on the App Store and has given me many reasons to visit the British Brewing Company again.