Esfresco — Easy Invoicing On the Go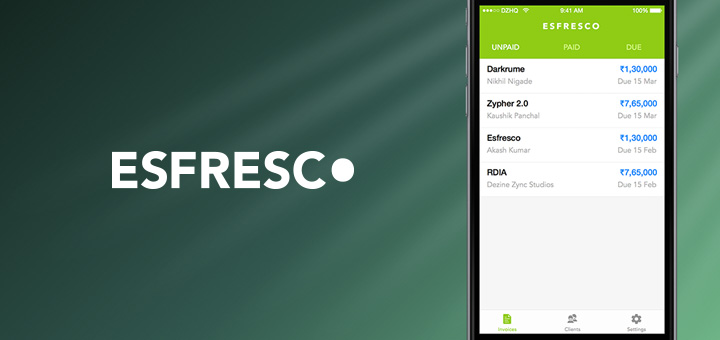 If you work with clients on different projects, sending invoices and getting paid is very important and there already are thousands of invoicing apps and services out there to help you out. Esfresco seems like just another invoicing app, but when you spend a few minutes with it, you realize it does offer some very interesting features.
If you get past the weird name, Esfresco facilitates easy invoicing on the go. It's designed to let you create and manage clients, create and send invoices easily using the iPhone app, most of it even when you're offline. The app features a bare minimum UI, putting the focus completely on the content and ease of use. You can create a new client with a few essential details and then create and send an invoice with a few simple taps. The invoices are sent as PDF attachments, using your system Mail account. It uses iCloud to sync/backup your data, but since it's iPhone-only for now, this isn't that important. You can manually enter partial or full payments to each invoice and even send a thank you note upon complete payment.
Esfresco also features notifications to remind you when an invoice is due and has a nifty Today widget that puts your list of invoices, along with buttons for creating New Invoices and/or Clients in the Notification Center tray. There are four minimal invoice templates you can pick from in the Settings of the app or you can design and customize your own using an easy syntax.
I did find a few bugs and oddities in the app at times, but these can easily be fixed with an update. Esfresco is available for $4.99 on the App Store.
Giveaway