if (screen && screen.width < 767) {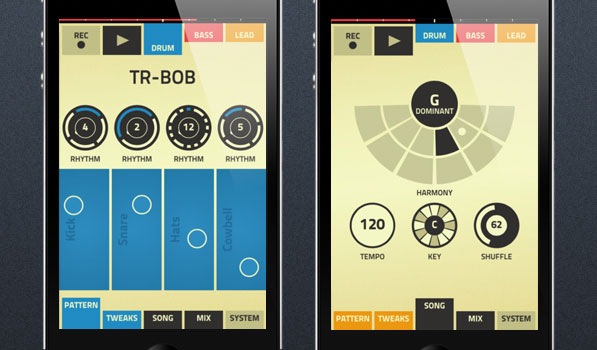 Figure – Kill Time and Compose Great Tunes
---
The App Store has a plethora of music composing apps. Most of them were rendered useless when Apple announced Garageband for iOS. While most pro musicians would tend to use the higher end music composition apps like Korg iMS-20, the casual musician or the non musician now has tons of apps that make it unbelievably simple to create something that sounds beautiful. PropellerHead have created a tool that is both visually pleasing and simple to use for the layperson with Figure.
Figure has a very simple metro interface with a nice sandy beach theme. PropellerHead have really gone all out with the interface here. Transitions are smooth as butter and nothing feels out of place. Each different instrument section has its own colour theme for the play pad which is below the knobs. The best part about the actual music composition part of the app is this play pad that allows simple creation with a slide of a finger. Figure let's you record for 8 bars only of a fixed duration and this is represented by a small nice slider with 8 sections on top. The interface is probably one of the most unique ones ever for a music app and given the ease of use you can almost never create something that sounds bad.
It has 3 main sections for music composition : Drum, Bass and Lead. Each of them have their own knobs to adjust the rhythm,range and scale steps. Each sound can be tweaked using a similar interface. There is a separate tab for adjusting the master controls that are the tempo,key and scales within the key of the current song. These apply to every instrument. Mixing each instrument is very simple. You control the volume of an instrument or mute it entirely. Once you have your pattern for one instrument, you can change the sound in each sections. With the amount of permutations and combinations that are possible it will be almost impossible to come up with the same tune twice.
Figure let's you create something that sounds great in almost no time. You could spend almost an hour fine tuning one section you came up with and this app definitely adds the fun element to a music app. My only complaints are the fact that you cannot export your creations and also the duration of recording is quite short. That said, Figure is available for only $0.99 and is an absolute steal at the price for something that let's you kill time and compose some nice electronic music.