Finish Rethinks the To-do List for Procrastinators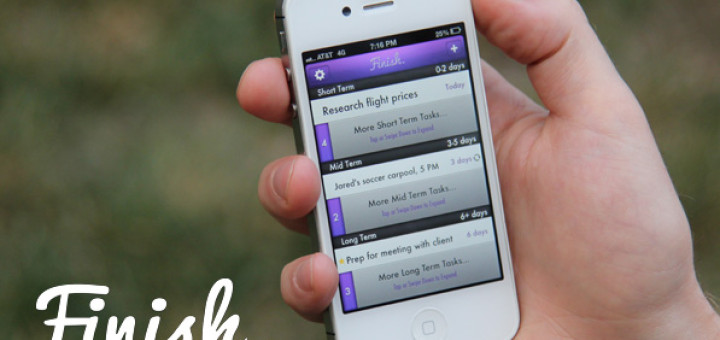 Yes, there are plenty of Task Managers and To-do apps on the App Store already. But that didn't stop 16-year-olds Ryan Orbuch and Michael Hansen from working on their own take on a a task manager app that was beautiful and worked how they wanted it to work. The duo set out to build an app that was built for procrastinators and focussed entirely on the user's time. Finish for iOS is the result of their hard work spread over a year.
Finish, like any other typical task manager app, lets you quickly add tasks that you want the app to handle. But where Finish differs from the bazillion others out there, is how it handles these tasks. When you first launch the app, it asks you to set time-frames for your short-term, mid-term and long-terms tasks. For example, you can set your short-terms as within 2 days, mid-terms are a week and long-terms as a month. Then, the app will automatically categorize your tasks into these terms as you add them. Finish doesn't bore you with unnecessary details about the task. You just enter what the task is and what the Due Date for that task is. As the due date for each task gets near, Finish will move them into the relevant terms.
Finish sports a brilliantly simple UI that makes it a joy to use. When adding a task, it only displays a single text field on the screen so your focus is only centered on it. Tap next and you're presented with a calendar at the top. As you tap the date, a subtle animation at the bottom denotes what timeframe the task falls under — Short, Mid or Long. If you enter a longer task, it'll tell you that you can tap and hold the task name in the list to view the complete name. In the list view, you can swipe right to left on a task to mark it as done, star it, share it to Twitter or Facebook or simply edit it. Tapping on the Finish logo at the top shows you the completed tasks. There's a 'Focus Mode' in the app that only shows the most urgent tasks in each timeframe. There are subtle animations throughout the app and lovely little sounds to go along. To seal the deal, yes, Finish does prompt you with local notifications about upcoming tasks.
Finish is a great 1.0 release for an app that does one thing well. In my usage, it fared quite well in making sure I attended to the tasks I'd entered in it. Unfortunately, it's iPhone-only and does lack a few features you'd normally see in others apps; but at just $0.99 on the App Store, you've got to give it a try.