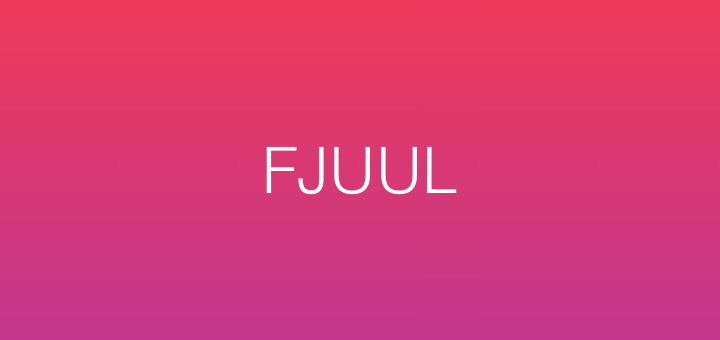 Fjuul (pronounced 'Fuel') is a fitness tracker for iPhone. Unlike other fitness trackers that track just your movement, Fjuul also tracks the intensity of your movement (the metric Fjuul Points). This activity can be anything including walking, running, dancing, going to the supermarket, etc. The app has quite a refreshing look and uses some gorgeous colours and colour-gradients to present your fitness data. This helps the user make sense of the data just by looking at the current colour of the screen.
The app's menu has been implemented really well and can be accessed by swiping down. I really like this menu navigation type and prefer it over the card interfaces that we've been seeing so much of these days. On launch, the app prompts you to create a Fjuul profile so that you can share your points and activities with the Fjuul community. The Fjuuling menu is where you'll spend most of your time. Here, the app presents you with the day's Fjuul score along with the number of steps you've taken, the calories you've burned and the time you've spent on an activity. Tapping on your Fjuul score plays a neat water ripple like animation and switches the view to show you the time remaining before you reach your goal. I love the Tortoise – Cheetah slider that's been added in this view to show you the intensity of your current activity.
Fjuul provides some creative goal setting options for you to choose from and then pursue during the day. For example, you can choose to burn the calories contained in a burger, pasta or ice cream and the app incentivises you to achieve your goals accordingly. Apart from this, the app also lets you analyse your weekly/monthly/daily progress through some lovely charts. If you wish, you can also share your Fjuul session on Facebook or Twitter.
Fjuul does a pretty good job helping you achieve your fitness goals but it does come with some flaws. Although the website mentions that the app doesn't affect your phone's battery life, I found that my battery drained out much faster when the app was running. The app's interface is simple to look at but can take some getting used to. I'm still confused about some aspects of the UI. I've also noticed that the app sends unnecessary push notifications sometimes. Most of these are minor issues and can be fixed in future updates. If you want to try out a refreshing new fitness app with a beautiful UI, you should definitely try out Fjuul. It's currently available for $0.99 on the App Store.