if (screen && screen.width < 767) {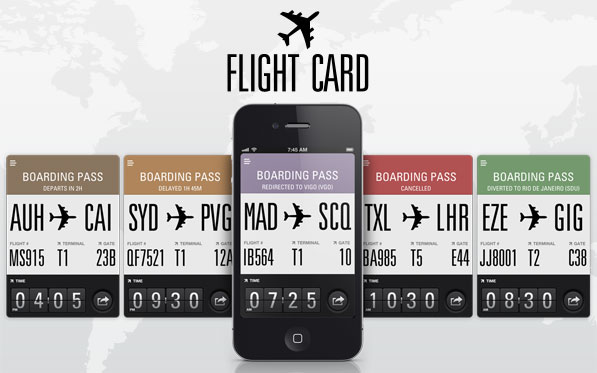 Flight Card Reinvents Your Boarding Pass
---
When Patrick sent me the link to a preview of this app, it barely took seconds for me to fall in love with the pixels. Flight Card's first impressions were that good.
Flight Card is a simple iPhone app that lets you look up your flight and presents the details through a "reinvented" approach to your boarding pass. It features over 90,000 flights from 1500 airlines flying through 16,000 airports.
Flight Card's design is simple and subtle. Designed by Jonatan Castro, Flight Card features very elegant color schemes and elements. There are no shiny gradients or glowing elements. Every screen in the app is pure elegance, if that's even a thing. The information in the boarding pass is neatly laid out and pleasing to the eyes. Arrival and departure times are displayed at the bottom in a nice split-flap display style.
Flight Card sells for $4.99 on the iOS App Store and is a fantastic way to keep a track of your upcoming flights, without the hassles of too many controls and settings.