if (screen && screen.width < 767) {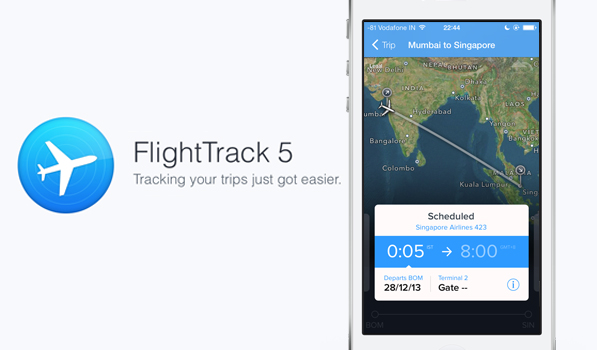 FlightTrack 5 — A Gorgeous Flight Tracking App for Your Phone
---
After iOS 7 launched, many big name brands were ready with iOS 7 updates to their iOS apps. Mobiata took a little longer with their iOS 7 update. FlightTrack and FlightTrack Pro were widely used apps worldwide. Heck, I know people who haven't bought a single app barring FlightTrack on iOS. They recently released a brand new app, FlightTrack 5 that has been rewritten keeping iOS 7 in mind. While many updated apps are going "chicken shit white" as my friend Jared Sinclair likes to call it, others are trying something better. Mobiata has released one of the best flight tracking apps in terms of functionality and looks at the cost of one major feature that I will come to later. I've tested the app over the last few days with multiple flights and compared it with data from Flight+ and the actual airline data.
FlightTrack 5 puts your content at the forefront of the screen. Every little view in the app looks great and the animations between small elements is the icing on the cake. When you launch the app, you can add trips by tapping the + symbol on the top right. This brings up a search field and airports close to you are listed below it. Your recently searched airlines and airports are also shown below. You can also tap the first button or shake here to track a random flight. Once you hit search, there's a lovely animation of radar waves emanating out of an Airplane symbol. Flight cards slide up from the bottom with the search results. Tapping a card adds it to a trip and brings its detailed view forward.
[showcase id="10678″]
The trip card lets you add more flights to your trip and get an overview of your trip on the map on the top. The bottom has the flight information that can be swiped to the left for replacing or deletion. The final flight view is my favourite. You can swipe across airports in your trip and the actual flight. Swiping up opens up the card revealing either terminal details like weather and map or flight details like a graph of the time, alternative flights on the same route and a one tap button to call the airline. The card flip animation when you swipe up is great although it is a little laggy on even the newest iOS devices.
FlightTrack 5 has push notifications for flight alerts and with my testing it more or less matched the actual airline data. In some cases Flight+ was quicker with alerts but overall I was impressed with the notifications on FlightTrack 5. When data was missing, the notifications are pretty funny like the one pictured below. One thing FlightTrack 5 does not have is TripIt sync or iCloud sync. TripIt was one of the most used things by many in the previous versions of the app. People who still need TripIt, should stick to previous versions of the app. Mobiata claims TripIt didn't give them the necessary API access for TripIt while TripIt offers a discounted upgrade to pro for affected users.
[showcase id="10684″]
FlightTrack 5 is a gorgeous flight tracking app for iPhone and Android right now. I don't use TripIt but given how easy it is to add flights people who didn't rely too much on TripIt wont miss it. It has push notifications for alerts raises the bar for travel apps in general. FlightTrack 5 is available for $4.99 on the App Store and Google Play. Hopefully Mobiata either adds TripIt integration soon because a lot of people are unhappy about it not being there.
Note:
Since this is one of the bigger apps to do a paid upgrade/new app I felt like chiming in my thoughts on paid upgrades. I've seen the app get 1 star reviews from people with comments like "I used to use this app several times a month on flights but not anymore because I have to pay again". I can't even fathom why someone who uses an app multiple times a month to save time and money would complain about paying a few dollars for a new fully rewritten and redesigned update. I can understand the lack of TripIt sync annoying people but most negative reviews state otherwise and it is sad.