if (screen && screen.width < 767) {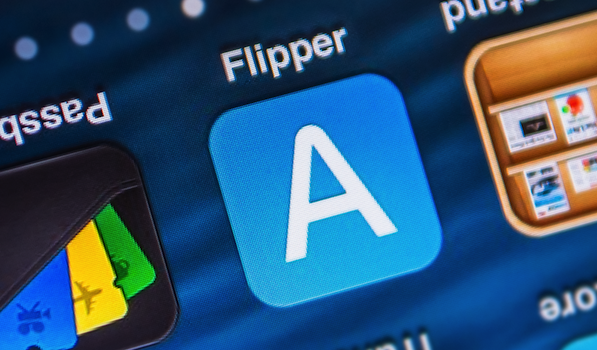 Flipper Lets You Flip or Reverse your Text Using Gestures
---
The folks at Ramotion are known to design some of the most photo-realistic apps that I've come across. We've already written about two of their previous apps that they've released on the App Store, Pick'n'Roll — the iPad app to browse shots on Dribbble and TurnPlay — the Most Ridiculously Detailed Vinyl Record Player App for iPad. For their third app, Ramotion decided to step back a bit and in keeping up with the newest design trend, have released a simple app with a, dare I say, "flat" design.
Flipper is a simple iPhone app that lets you flip or reverse your text. It uses gestures to perform these actions, so reversing your text is just a swipe away while flipping it is just a flick away. You can type or copy/paste up to 140 characters of text in the app, denoted by a tiny character count above the keyboard on the right. Even iIf you try to type beyond that, the text block shakes and the phone vibrates. A 'share' glyph hidden below the keyboard lets you share the text to Facebook, Twitter, iMessage or just copy it to the clipboard. Alternatively, you can just double tap on the screen to quickly copy the text when you're done. Moreover, shaking the device clears all text when in the writing mode and the same gesture returns the text to its original state when you're previewing it.
Flipper has a simple and smooth blue color used for its UI, which works really well for it. The app is responsive and works just as it should. You can download it Free from the App Store.