if (screen && screen.width < 767) {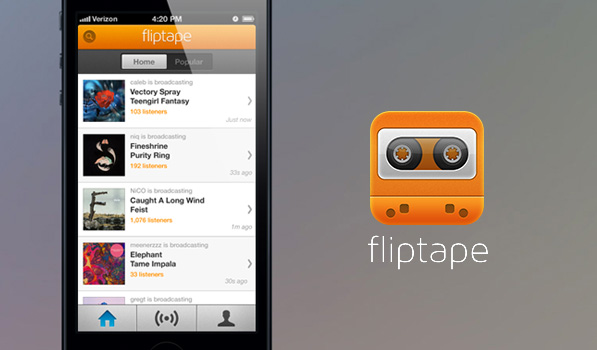 Fliptape — Spotify with Friends
---
Fliptape is a very interesting and fun way to listen to streaming music via Spotify. While the service already provides a full-featured app for the iPhone, Fliptape isn't meant to replace that default app. Fliptape uses your Spotify account to let you explore and listen to music that your friends are listening to, in real time.
Fliptape lets you follow users on Spotify and will then show you which artist and track they're listening to. You can then stream that song and the others in real time. It's an interesting way of exploring new music and Fliptape makes it a lot of fun. On the main screen, the app features some artists that are currently trending as well as features other music lovers. When you visit a user's profile, the app displays his top tracks along with some gorgeous Album Art. When listening to a track, you can track the 'i' button to see how many likes, stars it has and also how many listeners the track has at the moment. The center tab gives you access to your own playlists on Spotify, so your music is just one tap away.
Fliptape features some really neat animations and transitions. The UI is loving done and there's lovely attention to detail. I love the user of orange in the app, which gives the app its gloriously unique identity. It also has a fantastic app icon that looks great on my screen. Fliptape is Free on the App Store, but requires a Premium Spotify account. If you have one, go ahead and grab it already.