if (screen && screen.width < 767) {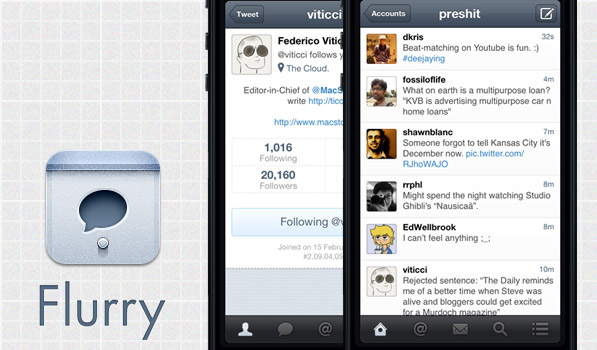 Flurry — A Simple Twitter App with an Elegant UI
---
Many of the users on Twitter today have already settled onto their favorite mobile client or app. There's a good chance that many of your reading this are already using Tweetbot as your client of choice — widely regarded as the best Twitter app available for iOS. There are also the users that prefer other client apps, like Twitterrific or simply the official Twitter app. Many other iOS Twitter apps have come to the App Store in the past, but have not succeeded to win over any substantial number of users. Moreover, Twitter itself has been pretty hostile towards developers with their API limitation and small number of available tokens for use. So when I heard about Flurry's entry into the scene a few months ago, I obviously thought, "Why?" And the best way to answer that question was to try the app myself and see what the hype was all about.
Right off the bat, I could talk about all the pixel love Flurry carries with it. The app is beautifully put together with an elegant color scheme, subtle gradients in the right places and overall a very well put together UI. Every element in the app feels right in place and the experience is very intuitive. Mere few minutes with the app and it already felt like I could get used to this app over Tweetbot. There are some pretty amazing little sound files that Flurry carries that are ridiculously good and quite a lot of fun when interacting with the app. 10/10 to the app for its UI and the corresponding experience.
Unfortunately, Flurry lacks the polish you'd come to expect in an ideal app. The app has a few different bugs in it that tend to annoy you when you come across them and while it is still in its infancy with respect to version releases (currently at 1.0.1), I'd love to see a much solid app from the developers. It also lacks a few "power features" that you'll normally find in some clients these days, so some of you might want to read through its features before buying it. Having said that, Flurry still makes for a beautiful, elegant and a great alternative Twitter client and I definitely recommend giving it a try. It'd be my app of choice even today if it wasn't for its lack of Push Notifications. At just $2.99 on the App Store, Flurry is a gorgeous Twitter client waiting to be tried out.