if (screen && screen.width < 767) {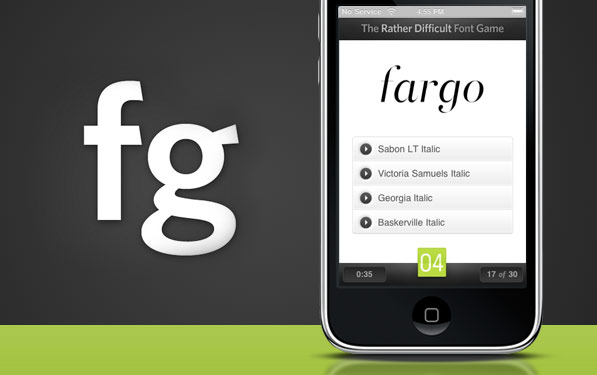 The Font Game – Not just any game
---
[tweetmeme] The app store may be crowded with games, but don't let this one's title deceive you. The Font Game, produced by ilovetypography.com, is a brilliant exercise in typography, right on your iPhone.
What is it? You're shown a word "fargo" in a particular typeface, and given for options to choose from. The 'test' runs for around 30 such slides, and you're judged according to how many you answer correctly along with the time you've taken. There's three modes of difficulty, picking from a selection of over 600 fonts.
The thing that stands out in this app, is the beautiful typography and design layered on by Justin Stahl, a designer I had no idea even existed. Stahl's design is gracious, unique, and exhibits the best of typography in any app on the iPhone. It generously uses italics where needed, and does away with the standard Helvetica in favour of Whitney by Hoefler & Frere-Jones. And it's not just the static design; the animations also have the most gracious way of presenting new menus and fonts.
While the gameplay would have been boring [speculating here], the design lends to the experience making the whole experience a a treat in typography. I even discovered a few new fonts for my little collection! It's an app of typography, for typographers, and most importantly, by typographers. At $0.99, it's a steal.