if (screen && screen.width < 767) {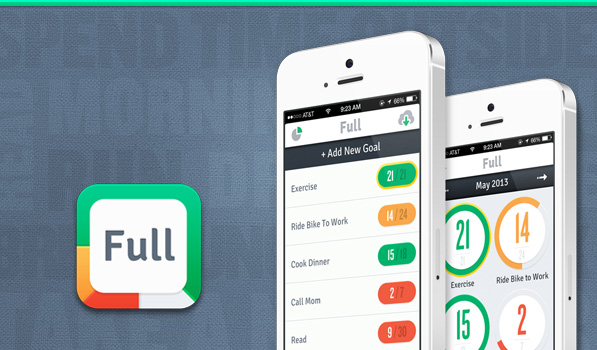 Full lets you Track your Monthly Goals
---
Full is a lovely iPhone app that lets you keep track of your monthly goals. Featuring a very elegant UI as well as a nice little icon, Full allows you to set up a simple list of tasks that you'd want to do daily or weekly and then lets you mark them as done whenever you've completed that task.
Full makes it very easy to keep track of how you've been doing with your goals. Say, for example, you decide to have an apple every single day of the month. You'd just add a new goal, type in the monthly total (31 in this case for August) and hit 'Set Goal'. The goal is then added to the list. Every time you eat the fruit, swipe left to right on the cell to increase the count by one and right to left to decrease it by one. You can also long swipe left to right if you want to Edit the goal and long swipe right to left to delete the goal. The good thing about Full is that you get to set the monthly frequency of the goal — so you can type in '4' or '5' if you wish to do something once a week.
The app has a really nice color scheme & UI, and feels great overall. Even the app icon is really nicely done and looks great on the homescreen. Full made its debut on the App Store earlier this month and is currently available for just $0.99.
[h/t @michielbijl]