if (screen && screen.width < 767) {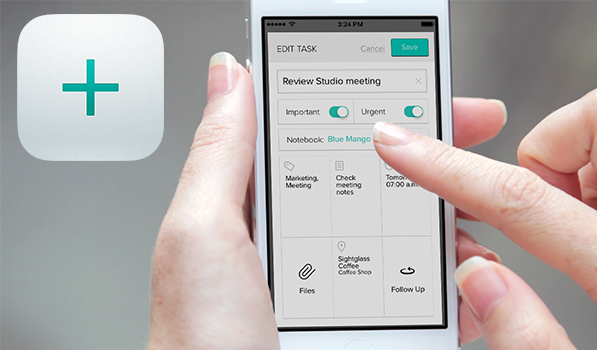 Gneo — Simplifying Massive To-do Lists
---
Some apps impress you right from the second you launch it and to me Gneo was definitely one of them. Gneo is a comprehensive task manager app available for your iOS devices that tries to set itself apart from the thousands of other similar apps on the App Store by providing some unique set of features.
When it comes to productivity apps, there has never been, and there will never be, the ultimate "one size fits all" app. If you are the type of hardcore user who deals with massive to-do lists on a daily basis, you are going to love Gneo. My first launch of the app was an absolutely delightful experience. I loved the clean iOS 7 friendly interface, typefaces, animations and overall responsiveness of the app. You are presented with a short and crisp tutorial with nice feedback for each action you perform. Once you are done with it, the app asks you to login with your email address, which seems to be mandatory as all your tasks by default sync with Gneo's servers. Usually I hate apps which don't let you login with Facebook or Twitter or use them locally, but with Gneo I really didn't mind, probably due to the fact that I was already impressed with the sheer quality of the app.
Once logged in, there is a default to-do list called "Bootcamp" which introduces you to more actions that you can perform on the list and each list item. Swipe gestures can been used effectively on each task you create. Based on direction and the length of swipe done, you can perform various actions like following up after 1, 3 or 5 days, edit details of the task or delete the task. In Gneo, each tasklist is called a notebook. You can also create something called "smart notebooks" which lets you fetch and view tasks from multiple other notebooks based on filtering criteria like tags, reminders and their status. So for e.g. if you need to view all the tasks that are due on next friday with the tags "sales" and "vendors", you will be able to with the help of smart notebooks. Also, these notebooks update themselves as the contents of the actual notebooks change.
To create a task, Gneo requires you to tap the button on the bottom left. This launches the new task popup dialog on which you can enter tags, notes, reminder, attach files, location and follow up parameters apart from the name of the task itself. Tapping of any them takes you to the respective screen via a neat 3D flip animation on the popup itself. It also has two toggle buttons which let you mark a task as urgent and important. While this could be overwhelming for many of you, all the parameters except the name of the task are optional. So that lets you use Gneo like most other simple to-do list apps as well. But it is disappointing that I can't just directly enter a task on the main list screen. Each task entry, requires me to tap a button to create, and another to save. This makes it a little more tedious for quick entry of multiple tasks. I hope the developers add that in the future updates. Also, having two options called important and urgent on each task makes it ambiguous and confusing.
Apart from these, Gneo also has a calendar view and a grid view which can be accessed using the middle button at the bottom of the screen, which also acts like a handle when you hold and drag it left and right. Grid view uses the 'urgent' and 'important' parameters and displays the tasks in 4 scrollable re-sizable divisions on the screen. There is also a totally detached but unobtrusive "Goals" list which doesn't seem to link to any other features of the app. Gneo also lets you sync with your Evernote account. Each task is synced with Evernote as a new note with all the reminders, tags, attachments etc. available on Evernote as well. And when a task is completed, the note is promptly moved to Trash on Evernote.
Overall, Gneo tries to carve a niche for itself in the productivity apps market by providing importance to features like following up, easy reminders along with some unique features like smart notebooks, grid view etc. It's definitely not suited for you if all you want is to enter some tasks quickly and mark them as done. But people working in departments like marketing, sales and support who might rely on massive to-do list everyday should love it for the amount of features available to make their lives simpler. Gneo is available as a Universal app on the App Store for just $4.99