Google has just released 'Gboard' — a new 3rd party keyboard for iOS. Announced via the Official Google Blog, Gboard brings you the ability to perform a Google Search with ease, right within the keyboard itself.
Gboard looks and feels like a native keyboard on iOS. There are no fancy (or ugly) themes to mess with. You get a simple layout with a white and light-grey palette. Just above the keyboard is an additional bar that displays word suggestions as you type and this is also where all your searches happen. Tapping on the Google logo at the top left expands this bar with a search field and 3 suggestions above it. You can search for things like the weather, restaurants around you, images, GIFs or videos, news and articles, sports scores and basically anything else you want. Anything you'd typically search on Google, you can now do that from within the keyboard.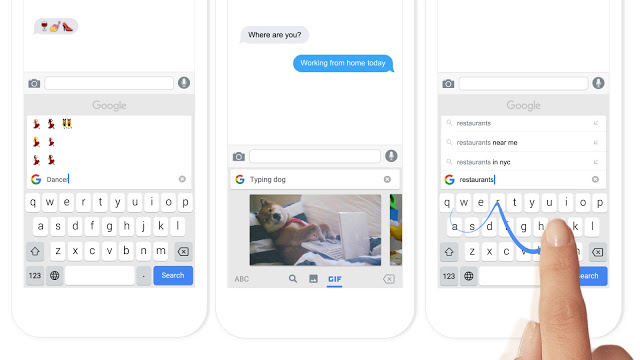 The search results that Gboard returns can either be sent as text, or as "cards" — copied to the clipboard as images that you can paste anywhere. Want to send an Emoji? You can search for those too. Gboard also contains what Google calls 'Glide Typing', which is nothing but Google's own implementation of swipe typing.
Gboard requires 'Allow Full Access' to be enabled in Settings, and as with all 3rd party keyboards, of course there's going to be some concern about privacy. Here's what Google says:
What Gboard sends to Google:
• When you do a search, Gboard sends your query to Google's web servers so Google can process your query and send you search results.
• Gboard also sends anonymous statistics to Google to help us diagnose problems when the app crashes and to let us know which features are used most often.

What Gboard doesn't send to Google:
• Everything else. Gboard will remember words you type to help you with spelling or to predict searches you might be interested in, but this data is stored only on your device. This data is not accessible by Google or by any apps other than Gboard.
Gboard is available for Free on the App Store and works not just on your iPhone, but iPad as well. Unfortunately, it is currently only available in English in the U.S., with more languages to follow.