if (screen && screen.width < 767) {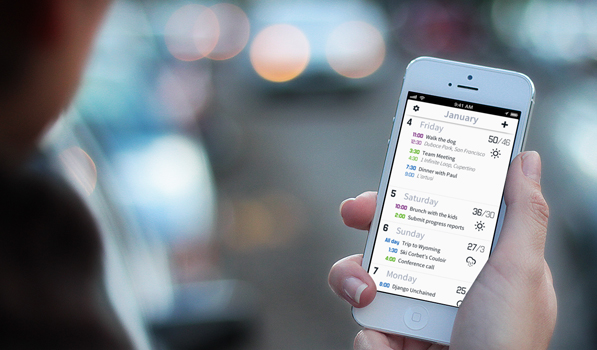 Horizon Calendar – Your Schedule and Weather in One Place
---
Most people use separate apps for the weather and the calendar. There are a number of great weather apps and amazing calendar apps on iOS. Horizon Calendar for iPhone aims to change that. Instead of having to check your schedule and then check the weather for the same day, you should be able to do both at the same time.
There's a quick tutorial that tells you how to navigate from the day view to the monthly calendar view by swiping the month name down when you launch the app. Horizon lets you scroll through your schedule and has individual cells for each day with a few events from the day listed along with the weather on the right. A more detailed weather forecast for each event is available by tapping on a particular day. The weather forecast is available for events up to 14 days away. The detail view for each day has a swipe-able weather forecast on top with the events from the day listed below. You can edit events here and add an event at any time by tapping the add symbol on the top right. You can go back at any time by swiping to the right as well. The monthly calendar view that you pull down is great for quick navigation to a date far away and also to see how many events you have on a particular day in a month indicated by lines underneath a day. Adding an event in the month view is as simple is tapping and holding a particular day. Given how much I love Fantastical's natural language input, I was a bit disappointed that I had to manually enter each field for an event. Horizon does have a built in location search powered by Google which is really fast. The settings section has toggles to show days without any events, toggle night mode, choose calendar, and change the units used for weather.
Horizon Calendar is a great app to give you a summary of your events for the day and the weather for each event. While the light theme is really nice, I didn't much care for the dark theme or the looks of the settings page. I really like the finer things in the app like the settings gear animation while it retrieves the weather and the colour coding for weather depending on the conditions. If you don't need natural language input in your calendar app, Horizon gets two things done at once. I've been using the app for the last few weeks and it is really fast and it gets the job done. Horizon Calendar is available on the App Store for $2.99.
Note that the current version has a bug in 24-hour mode where the numbers 6,7,8,9 are dimmed while adding events not letting you add events at certain times. Thanks Tommy.
[Photo Credit: PlaceIt By Breezi]