if (screen && screen.width < 767) {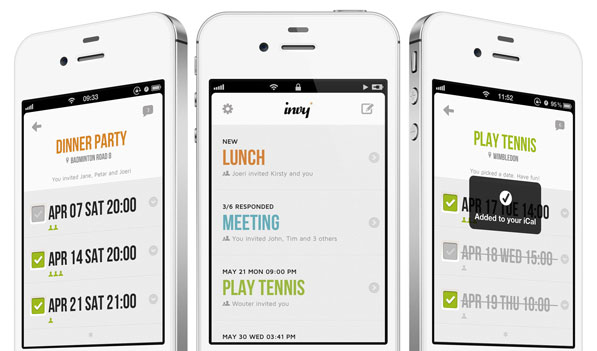 Invy App — A Beautiful Event Planner for iPhone
---
Invy is a beautiful & elegant app that lets you quickly and easily schedule a meeting/event/appointment with anyone. The app is perfect for cases where you have to co-ordinate with multiple people and go back and forth with emails and messages trying to fix a specific date and time for the meet.
The app is extremely well designed and easy to use. Say you want to go watch 'The Avengers' that's releasing this Friday on April 27th here in India. Just launch the app and tap the new Invite button, give it a title, location and select all the recipients you want to invite. Then pick the date(s) that you think would be good for the meet and you're done. Invy sends out emails to the recipients letting them know that you have invited them to an event. Your friends can then choose which dates are perfect for them that they are available on, and alternatively even leave a comment. If the recipient has the iPhone app installed, he is sent a push notification instantly and can RSVP from within the app.
Invy features a gorgeous UI with big fonts and neatly laid out elements. Navigating through the app is pretty intuitive and subtle animations and transitions add to the overall feel of the app. Once a date is agreed upon, Invy automatically adds an entry to iCal. At $1.99 on the App Store, Invy is a beautiful and fun way to quickly schedule meets with your friends.