if (screen && screen.width < 767) {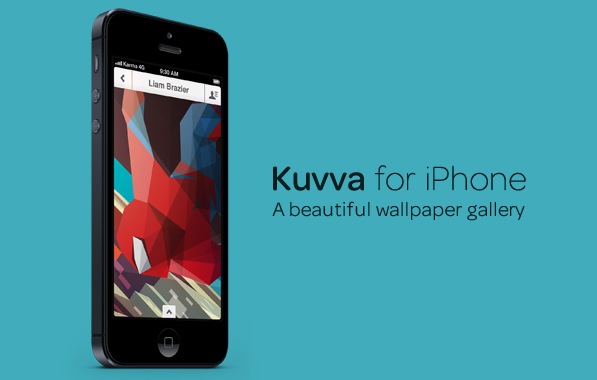 Kuvva Brings Beautiful Wallpapers to your iPhone
---
Kuvva is a website that offers a vast collection of beautiful wallpapers from various artists around the globe. It's an interesting idea — Kuvva features a new artist every week and offers the work by this artist as wallpapers in a set. You can use the website to download different sizes for your desktop and maintain your own collection by adding the wallpapers you like as favorites. It's a great resource to browse through interesting works by different artists, photographers, illustrators and designers around the world.
A few days ago, Kuvva extended this experience to the iPhone by launching the Kuvva for iPhone app. The app is a simple & elegant way to access all the wallpapers that Kuvva offers via the site, but being a native app, it offers a few exclusive features on the iPhone. The app offers a beautiful grid of thumbnails laid out for you to pick from. You can browse the weekly featured artist, browse the Popular wallpapers, explore all the new wallpapers added to the collection or go through your favorites by using the navigation on the left (similar to Facebook, but less cluttered).
Tapping on the thumbnail loads the wallpaper, which is already sized perfectly for your iPhone. Tapping once makes the UI chrome disappear so you can view the wallpaper in fullscreen. Tap again to bring the UI back. The name of the artist is displayed in the bar at the top. Tapping on the right icon takes you to the artist's profile, where you can view all the wallpapers he's contributed along with his location, Twitter and Website URLs. When viewing the wallpaper, a tiny arrow at the bottom brings up additional actions — you can "heart" it to add it to favorites (for easier access later), share it via Mail, Message, Twitter or Facebook or Save it to Camera roll. One nifty feature Kuvva for iPhone offers is the Lock Screen & Homescreen preview feature. The app lays our the Lockscreen UI or icons on the Homescreen on the current wallpaper to give you a preview of how the wallpaper will exactly look on your iPhone. Genius.
Maintaining your favorites requires a free account, but doing that makes it easy to follow your favorites across the website, the iPhone app and even their Mac app, which is FREE via the Mac App Store. The only complaint I have about the app is that the loading of images sometimes appears to take longer than expected, so it's annoying to see the loading indicator sitting there on the screen. However, the app is still a solid experience and gives you access to an amazing collection that you can use on your iPhone. The app costs $1.99 on the App Store and is automatically updated with new content.