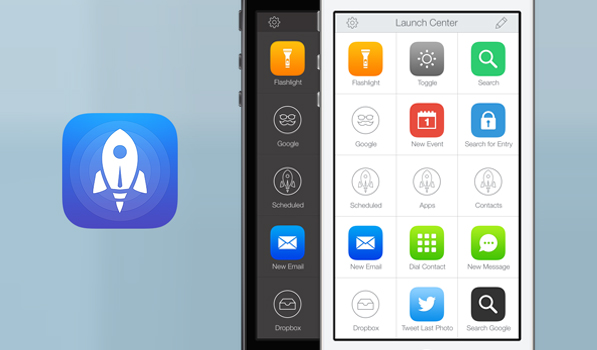 When I think of essential apps on iOS, Launch Center Pro is the first one that comes to mind. Launch Center Pro (henceforth LCP) and Drafts are two apps that allow you to get more from your iOS device. LCP just hit 2.0 and boy is it an amazing update.
Everything from the app icon to the glyphs in the app have been refined to fit perfectly on your iOS 7 device. On first launch, the app now has a nice welcome video that guides you through the app. Most apps have pointless videos that waste time but the LCP 2 video is really good. The workflow to get stuff done in the app remains the same, but the look has changed for the better. The app now has 3 themes that you can use for the background of the grid. The classic theme is the same background you used before. The new light and dark themes are great and I've been using the dark theme throughout while testing the app over the last few weeks. Tapping the pencil icon on the top right lets you create a new action or a group. The action creation workflow now allows sharing an action and using an all new Action Composer that slides up. The system actions now has support for in-app Dropbox actions as well that are insanely useful. I found myself using Dropbox sharing more thanks to LCP's actions. I love having the ability to upload your last taken photo to Dropbox and have the short link copied to your clipboard in one tap. If you have a custom URL to use, there is no need to enter the Action Composer now. The icon customization has gone through a much needed overhaul. Custom icons now have more background options and the ability to use a photo from your library. iOS 7 now allows inline GIFs in messages and Launch Center Pro lets you email and message GIFs as well.
[showcase id="9788″]
One of the most requested features, and something I have wanted ever since the app launched has been backups. I switched devices a few times since January and setting up actions over and over has been a pain. LCP now has Dropbox support for backups and it even has an Automatic Backup setting that will save every change you make. Restoring is a breeze once you link your Dropbox account to the app. The settings within the app also has a support section that has tips, FAQs and basics.
[showcase id="9793″]
Launch Center Pro 2 is a solid update to one of the best iOS apps out there. It is an absolute steal at the price and one can only hope the iPad version is coming soon. Launch Center Pro 2.0 is available on the App Store for $4.99 and is a free update for existing users.