if (screen && screen.width < 767) {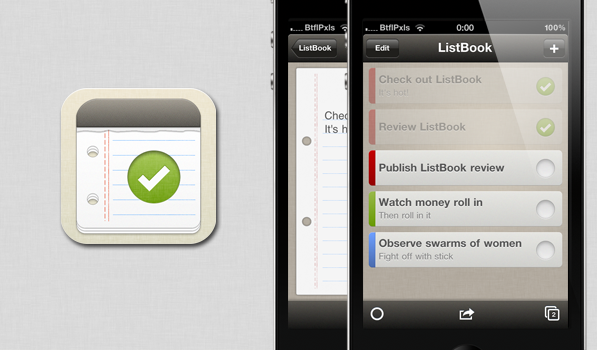 ListBook Might be Just What You Needed
---
With no shortage of to-do lists for the iPhone, it certainly is hard to make a mark. Searching 'to do' in the App Store will literally pull up dozens, if not hundreds of apps accompanied with the infamous 'checkmark' icon.
While many apps run overkill with a clusterf*ck of an interface, there's few that keep it simple. Less even, that keep it simple and sexy. ListBook does that. It's as simple as it gets, and it's most certainly as sexy as it gets. Finely crafted by a couple great guys at noidentity, ListBook may be that easy-going to-do app you've been searching for.
With ListBook you can create lists (go figure), complete with any individual amount of to-do's you choose to add to that specific list. The first line is essentially your to-do title, complete with whatever additional text you choose to add below it. There's a few available colors to mark your list items, be it for priority, or simply to categorize them a little further. A simple tap in the bubble will mark your item complete, with a filter button to hide the completed clutter so you focus on what remains. Beyond that there's a 'card view' to swipe left and right through all of your lists, with an unobtrusive settings tab to flip the card and change the list title and whether its count will be badged on the app icon.
That's it! It's simple, gorgeous, and surely what many of your are looking for. Goes for $1.99 in the App Store, so go ahead and grab it!