if (screen && screen.width < 767) {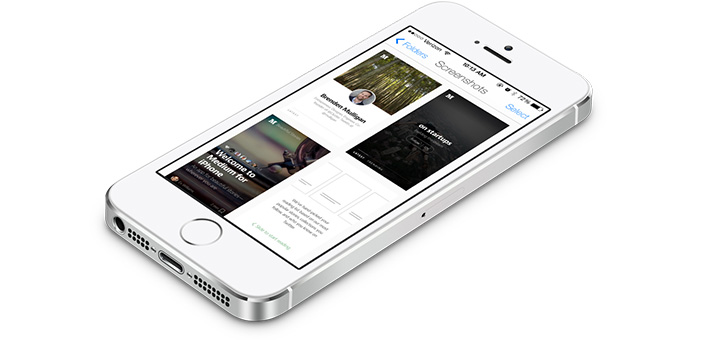 Manage Screenshots on your iPhone with Ease
---
Managing screenshots taken and stored on an iOS device is an annoying task. The OS offers no real management options, cramming every screenshot you take in the middle of your Camera Roll, along with the hundreds of photos & videos that you take with your device. This is especially cumbersome if you are a designer, developer or app reviewer and your day-to-day routine involves taking tens of screenshots to study or scrutinize. Screenshotter is a Free iPhone app that aims to help you manage screenshots with ease.
Developed by the team at Cluster, Screenshotter was originally an internal tool to help them control and manage their overflowing screenshots. Screenshotter is a light-weight, minimal and slick iPhone app that filters out all the screenshots available in your phone's Camera Roll and then lets you group the ones you want together into relevant folders. If you have hundreds — even thousand of screenshots, the app neatly lets you file them into folders based on your own formula. Unlike the Camera Roll, Screenshotter also displays the screenshots with thumbnails that maintain their aspect ratio, instead of using square ones that tell you nothing about a screenshot. This way, it is easy to quickly skim through the screenshots and reach the one you're actually looking for. For screenshots that you are not interested in, the app allows you to Archive them easily.
Screenshotter is meant to be a light-weight tool to aid you in your work. If you're looking for more serious tools, there's Ember app along with the $1.99 IAP for importing screenshots. Screenshotter is available Free on the App Store.
---
Version 2.0 — Released December 3rd, 2014
Screenshotter has just been updated to version 2.0 on the App Store. Here's what's new:
New Icon
Your filed screenshots are synced across devices using iCloud Drive
Ability to Delete screenshots from your Camera Roll right from the app.
Ability to rename folders
Screenshotter is still available Free on the App Store.