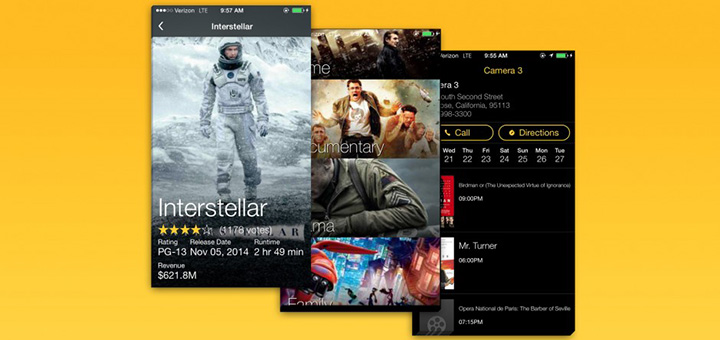 Marquee is a simple iPhone app that you can use to explore, search or browse information about movies. It has a very minimal interface that puts the focus on information like movie posters, movie details, actors & actresses, etc. It's a great way to discover new movies, watch associated trailers and find how which theaters are playing which movies (US only).
Marquee has four main sections — Movies, Explore, Trailers & Theaters. In the Movies tab, you can browse the list of movies that are currently running In Theaters, Upcoming Movies and the Popular ones. Marquee displays the posters of the movie under each section, and tapping on each poster loads the details about that movie. The app fetches data like Release Date, Runtime, Genres, Synopsis, Images, Cast & Crew, etc. In the Explore section, you can browse for movies under different genres or look up movies for a certain Actor. The trailers section gives you a list of interesting trailers that have come out this week, but there's no way to manually look up one from here. The Theaters tab gives you show timings for your current location, but this feature is US only and unfortunately there's also no way to manually look up a location here.
Marquee is a pretty simple app. There are no fancy UI elements or gradients anywhere. It uses native UI elements and puts the focus on the content that you can browse through the app. Marquee is available Free on the App Store and there's no reason why you shouldn't try it out.